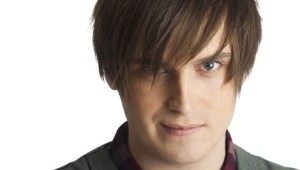 Tom Dice had been internally selected to represent Belgium at the 2010 Eurovision Song Contest. This evening we got to know which song he will be singing in Oslo trying to take Belgium to the final they haven't qualified for since 2004. The song is called Me And My Guitar.
About Tom Dice:
Tom Dice is to foreigners a stranger, but the Belgian TV viewers already knows that he is one who can handle being in a popular TV show. They got to know him when he finished second in X-factor in 2008. He is 20 years old, has released one single titled Bleeding Love, but more will probably follow now that the Eurovision Song Contest is going to be his next step.
About the song:
The song is called Me And My Guitar. It is a slow quiet song which is just as simple as the title indicates. He is alone on stage with his guitar. The style of the song has quite some similarities to Rock 'n' roll kids, which won for Ireland in 1994. Time will tell if Tom can do that as well.  
The show:
Bart Peeters hosted tonight's presentation program with the title Eurosong 2010: een song voor Tom Dice! (A song for Tom Dice). The purpose of the program was not only to present the song, but also to find out exactly who Tom Dice is and how they gain success with him abroad.
The show started with thunder and lightning and of course the tune of Te Deum. Shortly after we switches to Ruslana's dancers and a mix of Eurovision covers performed in an interesting way and new way. They are mixing a performance from one winning Eurovision Song Contest song to the music from another winner song. This is very well done and can only be recommend to see. A countdown is shown and the host announce that is counting down to the moment where they will present.
A viking ship has been placed on the stage. What the vikings now have to do with Belgium we'll probably see at some point.
Tom Dice comes on stage for a talk with the host. Tom is dressed casualy with a light brown hat, jeans, white shirt with a sweater over it. He says that for the past half year he has always been asked the same question; Do you have a song? He have so far had to answer no, not yet, but now he can finally say that yes, I have a song. 
A video is shown which tells more about who Tom actually is. It tells the story about how he wrote his first song at the age of 12. He wrote it for a a girl he was in love with at that time and played it to her in school hoping that she would fall for it. This sounds familiar to a story we heard last year: "Years ago, when I was younger I kinda liked a girl I knew"….
Tom is brought to stage performing his previous single Bleeding Love and also a little bit of De Tegenpartij which is originally by Clouseau who represented Belgium at the Eurovision Song Contest in 1991 with the song Geef het op. Later he also sings Madonna's Like A Virgin.
At some point they got to talk about that he has lost six kilos. That resulted in two girls dressed in the Norwegian flag coming on stage to show a pink salmon that weighs six kilos! Ok, yes, to foreigners it will appear like they have a weird sense of humour in Belgium.
In the studio to talk about the Eurovision Song Contest is one of the members from Clouseau and also Sergio, who represented Belgium at the contest in 2002 singing Sister to a 13th position. Sergio makes fun of the fans going to Eurovision who ask's him to sing a bit of his song at press conferences, ask silly questions and say that they like his song a lot! 
The host ask some experts to give him advise as to wear on stage in Oslo so that he doesn't end up with the Barbara Dex award which is given each year by the fans to the one with the worst outfit. One wants him in a nice suit another wants him in what she calls "bling bling glimmer" clothes. Let's guess she is a fan of De Toppers 🙂 It all ends up with him wearing jeans, an open sweater and a grey large grandfather hat.
A group of folk dancers wearing Norwegian traditional dresses. One of them speaks to Tom in Norwegian and he does his best in trying to understand it. Shortly after he is brought to the wiking ship to speak where some vikings were speaking Dutch. One of them explains that they horns are not actually historical correct. In the Netherlands and Belgium the vikings are called "Noormannen". This is why these countries often see the vikings as Norwegians – and forget that they were actually Danish. Afterwards he is being introduced to the Norwegian troll – which are indeed Norwegian. The host also make sure that Tom is aware of just how expensive beers is in Norway.   
Belgium at the Eurovision Song Contest: 
Belgium haven't had much success at the Eurovision Song Contest lately. They finished second with Urban Trad's Sanomi sung in an imaginary language in 2003, but it has been one failure after the other since for this country that has won once; in 1986 with young Sandra Kim singing J'aime La Vie. 
This year Belgium has once again been placed in the first of the two semi-finals without their neighbour The Netherlands. Despite trying quite different things such as their rock-n'roll song Copycat, a folk music style like O Julissi, the funky LovePower and Swedish Europop like Je T'adore they just never found the formular as to what it requires to get pass the semi-final.