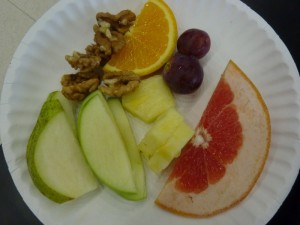 Are you surprised to hear that Crystall Hall is still not ready? Well, in a country like Azerbaijan you need to have a good portion of patience. The starving press is finally beginning to get something to eat and the shuttle busses works from time to time so things will probably get done in the end.
The Azerbaijanis wants to come across as being friendly and helpfull, no doubt about that. Things just aren't moving as fast here as in most Western European countries. Maybe it is a cultural thing or maybe it is the heat doing it as no doubt it is extremely hot here, although we yesterday experienced a day with a much appriciated wind. Unfortunately the aircondition in the press centre is sometimes a bit too high actually causing some of us to catch a cold – in 30+ degrees.
Several are also experiencing our stomachs reacting to the local food. Personally I am missing wholegrain products and low fat alternatives, but that is just not related to Azerbaijan and this area as when I am in the Netherlands I constantly complain at not being able choose how much fat I want in my food. Maybe we are just priviligied in Denmark?
On the subject of food then most of the press was really starving the first few days. Yes, we could get snacks like nuts and fruit bites – and it is free, but an actual food catering for the press was not in function yet. Working 12 hours a day on an almost empty stomach clearly was too much for most as people got more and more irritated and lost the patience, which is needed here. Due to a security breech some managed to sneak into the crew catering – which was working from day 1 and aparantly is quite good – but that just caused even more problems. Well no one can blame those who tried as surely they were just trying to survive. 
Finally here in the middle of the first week there is a few sandwishes available for the press to buy so maybe we won't all be skin and bones when we return back home in about a week and a half.
There is now less than a week to go until the first semi-final and the arena Crystall Hall is still not ready. When we go there to watch the rehearsals we really need to mind our steps and have more than two eyes as we are in constant risk of falling over bulding equipment or being run down by the mashines they use. How many remember that EBU proudly announced two weeks ago that everything was ready? They were probably just trying to call down the many people wondering about the status of the process as fact is: It was far from ready at that point and despite working day and night these days it is still not ready. 
The Azerbaijanis appear to be quite relaxed about the many things still not working. They have the attitude that what isn't working today might be tomorrow or in a few more days so we'll just wait. What a patience they have…. except: One place where they however are not relaxed is in traffic! This just has to be the worlds most disgusting traffic culture – or lack of a such one. Forget about former host cities like Istanbul, Athens and Moscow – nothing comes even just close to this.