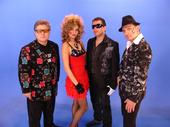 It appears like the Bulgarian participants become the eight 2008 Eurovision Song Contest act to be revealed as part of the line up for the UK Eurovision Preview party. The event, which is being billed as the biggest Eurovision event in London since 1977, will take place on Friday 25th April.
It seems as if the 'La Scala' venue in North London will be teeming with Eurovision participants, past and present. The confirmed participants are Ani Lorak, Isis Gee, Euroband, Morena, Maria Haukaas Storeng, Laka and Nico and Vlad Mirita. According to BNT's Head of Press Tanya Stankeva Deep Zone and Balthazar is to be added to that list: "Deep Zone and Balthazar will be in London to present their song DJ, Take Me Away between 25 and 28 April. We plan a grand party on 27 April in London's trendy club The Collection in South Kensington. Apart from that, the Bulgarian representatives will be at the UK preview Eurovision party, organised by ESC.today, to be held in Scala, on 25 April."
There seems to be a little confusion about this though as organiser Barry Viniker so far denies this – and they have not yet been added to the list of participants at the party. To add even more confusion the MySpace profile of the Deep Zone Project mentions them to be in Portugal on promo tour on the 25th of April!
Tickets for the event can be booked by visiting the official website:
http://ukeurovision.com