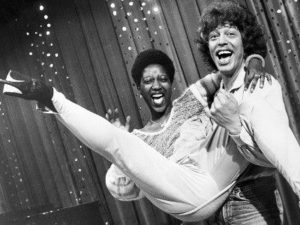 The new book about Tommy Seebach, which is for sale from today, reveals that a BBC boss told one half of the Danish 1981 duo that the United Kingdom basically had been guaranteed the victory in that year's Eurovision Song Contest for political reasons.
Debbie Cameron says that the BBC boss came to her and told her the reason why big favourites like West Germany, Israel and Denmark had so many technical problems which were never solved. He said to her that he was taking a big risk by telling her, but that he did so because she deserved to know. Apparently he had witnessed how the technicians deliberately sabotaged at least Denmark and Israel and probably also West Germany. They didn't do anything to solve the problems they had caused due to that these countries doing badly would help Bucks Fizz a big step on the way to victory. The answer to why the United Kingdom should be given the victory the BBC boss mentioned to be of political reasons.
Already back then DR had accusations out regarding faul play, but Debbie Cameron decided not to back the broadcaster's accusations up by revealing what she was told. She hasn't said a word until now where she thinks that Tommy's legacy deserves it.
In 1981 Denmark came 11th with their entry Krøller Eller Ej while Bucks Fizz won with Making Your Mind Up. Debbie doesn't think Denmark could have won, but as she says "probably have done better than 11th out of 20 participants" hadn't they been sabotaged.
The book about Tommy Seebach is released today together with the premier on a documentary film, Tommy, about him. Recently an 11 double CD with all his albums was released as well.