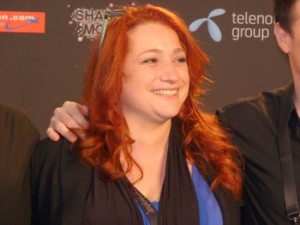 This time next week, we will know whose hard work has paid off and where we will gather next year. Meanwhile, the preparations continued for some of the participants in the second semi-final starting with Ireland. The Big 4 and Norway also had their final solo rehearsals.
Ireland – Niamh Kavanagh – It's For You
Niamh is a bit of a party girl, but insisted she is keeping her focus on the most important reason for being in Oslo. She commented "Morning singing isn't a pleasure for anyone. But although it appears that I've been partying a lot, I'm very careful about my instrument. I haven't forgotten why I'm here. There's no point in getting this opportunity and then party too much." She took the opportunity to introduce two of the four writers of It's For You. The other two will arrive later in the week.
Bulgaria – Miro – Angel Si Ti
Miro either really likes being on stage, or he's not doing it right. When he was asked how it felt to be on stage, he replied "It's amazing, my adrenaline is high, my heart is beating. Being on stage is better than sex." For Miro, it is more important to highlight Bulgarian culture than to win the contest.
Cyprus – Jon Lilygreen & The Islanders – Life Looks Better In Spring
The Cypriots were very satisfied with their rehearsal, saying "It was better than last time. It was awesome." Perhaps issuing a broadside to the countries that have bigger stage productions than his own, Jon flippantly said that he would like to have a wind machine on stage to feel the wind blowing through his hair. The Welshman was also asked if he had performed in front of a crowd as big as the one he will face on Thursday, to which he replied "I played in Cardiff City Hall in front of 450 farmers."
Croatia – Feminnem – Lako Je Sve
Smaller countries often face questions about their ability to host the contest should they win. Croatia's Head of Delegation insisted that this would not be a problem for them as many new arenas have been built in Croatia, giving HRT a good variety of venues to choose from. The group said that everything on the set is excellent and they are proud of how it looks on screen
Georgia – Sofia Nizharadze – Shine
Sophia experienced a few problems during her rehearsal, which she put down to wearing the dress that will be worn in the semi-final for the first time. It includes a tight corset which gave her breathing difficulties. A question was asked about the dance routine choreographed to accompany the song, and if it has Georgian elements within it. The Head of Delegation answered this question and said that the dance is contemporary with a hint of Georgian tradition.
Turkey – maNga – We Could Be The Same
The natural assumption would be that al delegations arrived in Oslo with everything about the performance worked out. This is not so in Turkey's case. The band explained, "Now we are ready, during our first rehearsals we couldn't really practice anything so much. We have been working on the story in the song, trying to put that alive and bring it to reality in a fun, modern form so that everyone can understand what's going on on stage, for example the bionic woman becoming a human being." At this time of year, there are many hours of daylight in Norway, and the band said that this has had an impact on their body clocks.
If maNga do win next Saturday, don't expect a quick tour of Europe as they plan to have a holiday.
As they only had press conferences yesterday, Norway, France, Spain, Germany and the United Kingdom didn't have one today, but will have another conference later in the week. The BBC will hold one on Friday, when Pete Waterman and Mike Stock will be present, ash clouds and lazy BA workers allowing.