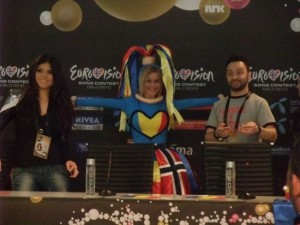 One week down, one to go. We are now halfway through the cycle of rehearsals and press conferences. As well as some of the participants in the second semi-final performing, it was also the first chance for the five countries who are automatically qualified for the final to rehearse and meet the press.
Azerbaijan- Safura – Drip Drop
Safura is currently the bookies favourite to win the contest, but she is not resting on her laurels, "We will be practising every day, like we have been doing for the past few days. We have more rehearsal time booked to make the show more professional on stage." When asked about her status as favourite, she said, "It is very nice that people think of us as one of the top songs, but it doesn't mean I don't have to practice, it means I have to practice more and more." As for Azerbaijan's ability to host the contest should Safura win, the Head of Delegation is in no doubt. "All participants are all able to win this contest. Of course we would like to win. We are prepared to host the event next year if that happens. We already had such kind of events in Baku before, and we would definitely love to host the Eurovision Song Contest in Baku."
Ukraine – Alyosha – Sweet People!
Some countries put a lot of effort into putting together a complex show for the staging of their song. Ukraine has opted to keep it simple, not even backing singers are on stage with Alyosha. The Ukrainian singer said "My song is very self-sufficient, it doesn't need any dancers or special effects or backing vocalists." At her previous conference, Alyosha had said that environmental preservation is the theme of her song. In line with this, she invited the press to attend the 'Green Game', a football match which the Ukrainian delegation is organisation as part of an 'Ecovision' programme. 
The Netherlands – Sieneke – Ik Ben Verliefd (Sha-la-lie)
How's this for an entrance? The Dutch delegation asked the press to meet them to meet them outside. There, they were given orange feather boas. When the boas had been draped over the members of the media, a car drew up and out of the roof popped Sienke! Once inside, she expressed her relief at her bout of flu being on the wane and also talked about the song and its roots in traditional Dutch culture, "We made the song very typical for the Netherlands, and the backdrop we use on the stage is a replica of an original organ."
Romania – Paula and Ovi – Playing With Fire
All things considered, the Romanians seemed happy with their second rehearsal. Ovis said, "The sound is fantastic, much better than what we did in the Romanian final. We're still fine tuning a few adjustments but overall it's great." Paula added her thoughts, saying, "I still have to get used to the big flame coming towards my face, it's a bit scary but I'll get used to it!" She also confessed that she and Ovi haven't made a decision on what they will wear yet, "Sometimes the outfits look completely different when you see the camera angles and lighting, so we are still trying to find the right one."
Slovenia – Ansambel Žlindra & Kalamari – Narodnozabavni Rock
The Slovenian song is (apparently) a mixture of rock and Alpine music. As an experiment, the song was written to see how well two different styles of music could combine. The group said that he press at home are supportive of them although they said that they felt that Slovenia took the contest too seriously.
Spain – Daniel Diges – Algo Pequeñito
The first of the Big 4 to rehearse and give a press conference, Daniel seemed impressed with his surroundings, commenting,  "I've always been on stages in Spain, but this is the most impressive stage I ever performed on"  he has already recorded and released his debut album.
Jesús Cañadilla, who composed the song, told the conference that he wanted to write a song that was not typical of the contest.
Norway – Didrik Solli-Tangen – My Heart Is Yours
Naturally, the host song attracted an enormous amount of interest for both the rehearsal and the press conference. One of the home journalists asked about Didrik's accent, which was American in the Norwegian final, but is now British. "After the Norwegian final, some newspapers pointed out that I pronounced the word heart with an American accent. I like to improve, so when we discussed this, I decided to change it into British," was his answer.
United Kingdom – Josh Dubovie – That Sounds Good To Me
Josh's journey to Oslo had been a bit of a marathon. Wisely, with all the problems caused to flights by the volcanic ash cloud, the BBC organised travel over land and sea. As soon as he arrived in Oslo, he slept but when he woke up, he was "feeling great and had a lovely view of the whole of Oslo" when a question was raised about the changes to the song since the United Kingdom selection show, he gave the reason for the changes as being for practical reasons. He said the song had to be arranged for the six acts competing in 'Your Country Needs You', but was adapted to suit him after he won.

France – Jessy Matador – Allez Ola Olé
Jessy is already successful in his native Africa, but said he is proud to represent France and will do his best to achieve a good result. He revealed that his favourite song this year is the Greek entry, but his favourite is Lordi's 2006 winner. The French Head of Delegation said that the first objective was to have a song which would be a summer hit in France, and one that would be sung throughout the country.
Germany – Lena  – Satellite
The German singer said she was "very, very, very excited, but after a few rehearsals it was just fun and cool.", and that being one of the favourites was not something that was important to her. Never one to be shy of bucking a trend or seeing the world differently, Stefan Raab said "The real favourite is The Netherlands. It's so revolutionary reactionary, it must win."
When she won the German final, some thought she looked disappointed that the song thought to be her favourite wasn't chosen for her to sing. She dismissed this, saying, "I was just tired, not sad or disappointed, and now, Satellite is already my favourite song."