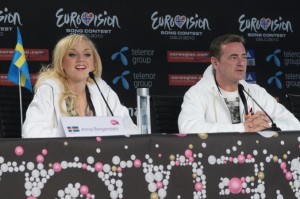 Day six of the biggest musical show on earth saw twelve countries rehearse again, from Albania – participating in the first semi-final, to Sweden – who has been drawn in the second semi-final.
Albania – Juliana Pasha – Nuk Mundem Pa Ty
Fashionistas among the press corp. would have been disappointed at Juliana's conference as she insisted that she will not give any details of her hairstyle for the big night. So, it looks like we will have to wait and see. I hope I can stand the tension between now and Tuesday.  However, she did reveal that the designer of her dress is one of the most famous designers in Albania.
Greece – Georgas Alkalis & Friends – Opa
The Greek delegation feels that Opa is one of the most ethnically Greek songs that they have ever sent to the contest. Giorgios and his dancers are all of Greek origin, but also hail from other parts of the continent. Giorgios had to field questions about the financial crisis gripping Greece at the moment. He was keen to separate politics and music, saying "We are artists that believe in music, and now in times of economic crisis we believe that without the music, it would be even worse. This song Opa has the message that the problems will pass and to stick together when things get tough."
Portugal – Filipa Azevedo – Há DIas Assim
Filipa was very happy with her second rehearsal. "It was perfect", she said. The song's composer said that the song comes from the bottom of his heart. Although he didn't write it with Filipa in mind, he was happy to change it to suit her voice, which he described as having "soul". Filipa has been making the most of her time off stage while she has been in Oslo, "we have been to museums, on boat trips around Oslo, making new friends and going to Euroclub. It's been a lot of fun".
Macedonia – Gjoko Taneski – Jas Ja Imam Silata
There were some problems with the first rehearsal which Gjoko believes have been overcome, "The lighting and sound are now great." It seems it is tradition to endear yourself to the host nation, and Gjoko will have managed to do so when he claimed his favourite Eurovision song to be Norway's 1995 winner, Nocturne. Since he won the Macedonia final, word has been that the national press weren't exactly supporting him. Gjoko denied this, saying, "We definitely have the support of the press back home. Everything is OK."  However, the Head of Delegation was a bit more candid, "Yes it was a tight victory, Gjoko won by the votes of the jury after a tie. At first it was some kind of surprise, but the press have now fully supported him since then."

Belarus – 3+2 – Butterflies
The lighting has been changed since the first rehearsal on Monday, and the Belarusians are more than satisfied with the new staging, saying that the scene now looks "optimistic and bright." The conference also gave Alana the chance to show off her newly acquired engagement ring, given to her by Arts and the delegation party last night.
Iceland – Hera Bork – Je Ne Sais Quoi
The annual fan poll has put Hera at number 1, but she is not getting carried away with this. She said that, although it is nice, she doesn't consider herself as favourite, and to do so could allow her to get carried away. She also said how happy she was with her rehearsal.
Lithuania – InCulto – Eastern European Funk
Could illness wreck Lithuania's chances? Jurgis Didžiulis, the lead singer, revealed he has a cold and feels a bit unwell, but he is hopeful of fighting it off before next Thursday. The song nearly didn't make it to Oslo at all. The EBU investigated it for political messages, but decreed it suitable for entry.

Latvia – Eva Rivas -What For?
In an effort to jazz the stage up a bit, a few changes have been made, including the addition of some pyrotechnics because they want to see "the whole universe united on stage". They are very happy with the changes they have made.
Israel – Harel Skaat – Milim
At his first conference on Tuesday, Harel revealed the impact the song has on him personally. Today, he said he feels a greater connection with the song every time he sings it, with feelings of anger and sorrow to the fore. Perhaps in preparation of achieving success on 29th May, the Israelis also revealed that English, French and Spanish versions of Milim have been recorded.
Apparently, Lena from Germany thinks Harel is "hot". Asked what he thinks about this, Harel joked "I hope that she reacts to the song and the performance as good as she did to the package containing it."
Denmark – Chanée & N'evergreen – In A Moment Like This
The Danes were candid in their assessment of the second rehearsal. At least Chanée & N'evergreen were, as no-one else from the Danish delegation was present at the conference. "There are some problems, we need to get the smoke under control, we actually ordered dry ice not heavy smoke, this is our main challenge right now as the smoke can get in our throats and cause problems." Said Chanée. Comments have been made about the alleged lack of chemistry between them. Chanée said "I'm not surprised about that as we had massive problems in our first rehearsal"
Switzerland – Michael von der Heide – Il Pleut de L'Or
Among the feedback Michael has received is advice to shave off his beard so will he? "I haven't decided yet", he said. Switzerland was able to choose its own starting position for the semi-final. Usually, one of the last spots in the running order is chosen, but Michael chose position five. Asked why, he replied that it had been a spontaneous decision and that if he has to wait too long to perform, he gets excited.

Sweden – Anna Bergendahl – This Is My Life
Rounding off proceedings today was Sweden's Anna Bergendahl. The Head of Deleation, contest veteran Christer Björkman expressed total satisfaction with the organisation and the stage they are at with their own song. "We are exactly where we want to be. We have only a few adjustments now, so we left the viewing room very happy today. The host broadcaster NRK has been very professional." Anna's red basketball style shoes have become a bit a tag for her. She told the gathered media that the shoes used to belong to her sister who wore them to a music festival. As a result, the shoes had become grubby, which created look that Anna liked.