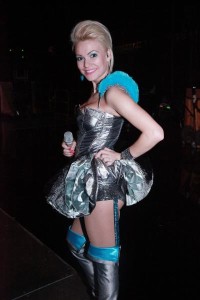 Thursday saw the beginning of the second round of rehearsals and press conferences. The first eleven countries competing in the first semi-final took to the stage for their last solo rehearsal. The next time will be the run through of the semi-final itself.
Moldova – SunStroke Project and Olia Tira – Run Away
The Moldovan delegation said that there had been a few problems with the cameras and the lighting at the rehearsal, but that these problems were solved afterwards. Olia wore the dress she will wear on the night and agreed to a request from the media to pose for photos, saying her costume is "a little bit sexy." She revealed that the audience can look forward to some wild make-up as well.
Russia – Peter Nalitch and Friends – Lost & Forgotten
Peter was asked about the photo he holds during his performance before throwing it on the floor at the end. He responded, "It's just an abstract drawing that I made yesterday, it's not a real person" the band usually write up-tempo songs, and was asked about the change of style. Peter answered and said that he felt the time was right for such a style.
Estonia – Malcolm Lincoln – Siren
Birthday boy Robin (the lead singer) insisted that there would still be a party to celebrate, but it wouldn't be too crazy as he needs to save himself for the semi-final in a few days.
Slovakia – Kristina – Horehronie
Kristina described her rehearsal as "perfect". She gave some information about the outfits, saying that they are partly influenced by the Horehronie region in Slovakia. Apparently, the first song she ever sung was Lambada when she was three years old. Her repertoire could only improve after that!
Finland – Kuunkuiskaajat – Työlki Ellää.
The two ladies of Kuunkuiskaajat felt that their rehearsal went well, especially as they remembered all the camera angles. They also said that they have received positive comments about their performance.
Latvia – Aisha – What For?
The Latvia delegation was pleased with their rehearsal, but Aisha put things into perspective. "I was in Afghanistan two years ago; it was very interesting and a little bit scary. When we arrived there, we met a lot of soldiers then we felt very safe. I felt proud of the performance, and that I did a good job there. All of the guys were happy as their life is so hard, and we gave them a concert. The funniest thing was when I was on stage; I was completely surrounded by guys, just me and hundreds of guys!"
Music runs in Aisha's family, and her Dad gave her some advice when she was small, "Listen little girl, you should listen to some nice singers, and when you can sing their song, you can go on the stage yourself and you are ready. That was Janis Joplin I was listening to, my favourite artist."
Serbia – Milan Stanković – Ovo Je Balkan
Milan was asked about the costume he will wear next Tuesday. The Assistant Head of Delegation described what he would be wearing as "modern candy". The staging of the song is quite different to the staging in the Serbian final. The reason for the change is to make the song appeal to an international audience while being true to Serbian traditions.
Bosnia and Herzegovina – Vukašin Brajić – Thunder And Lightning
Commenting on today's rehearsal, Vukašin said, "It was great. All the little opinions we had last time have been taken care of now, so we made great progress, and that's the point, I guess. My first plan was to kill myself on stage to get the attention, but with this production it won't be necessary." At the end of the conference, he sang the song is his native Bosnian, but, as a surprise, he also sung it in Norwegian.
Poland – Marcin Mroziński, – Legenda
Marcin revealed that his rehearsal had seen problems with not only the sound, but the cameras as well. He also confessed that he thinks it is harder to win the viewers over with a sad song than a more cheerful ditty. However, he feels that, "This year can be legendary for Poland!"
Belgium – Tom Dice – Me And My Guitar
Tom said that he is very happy at the way things are going for him so far. Expanding on his comments in his first conference, when he said that he is almost never without his guitar, he said that the song is about his love for music. He told everyone at the conference that he had taught himself to play the guitar, but "I could have become a better guitarist if I had stayed, but to me it was all about playing".

Malta – Thea Garrett – This Is My Dream
It would seem that the rehearsals haven't shown all there is planned for the presentation of the Maltese song. Thea teased that there may be some surprises and that she will wear a dress she designed herself. Memories of Barbara Dex come flooding suddenly back! Thea is dedicating her song to her recently deceased Grandmother, saying "she is with me all the time".