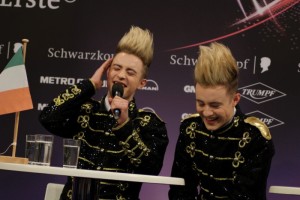 Today saw the remaining ten delegations on the second semi-final have the opportunity to rehearse, as well as holding the obligatory press conference.
The earliest arrival was Bulgaria's Poli Genova. She was clearly content with the world as she entered the conference room. She has tried four times to participate in the contest, so how does she feel now she has finally made it? "It's a dream come true to be on the stage but I'm not scared. I can really feel being on the stage and it's amazing." Most countries choose to song in English these days, but she will sing in her native Bulgarian. "It is the original lyrics. We tried the English lyrics and it doesn't work. We just lost the message of the song. The lyrics are really powerful and give us special energy and we all feel comfortable with the original lyrics and love. It was the best decision."
Macedonian singer, Vlatko Ilievski is also an actor. Which does he prefer? "Musical." came the positive answer. In contrast to the large Dusseldorf arena, Vlatko has been quoted as saying he loves to perform in small venues. He also said he would continue to do that during preparations for the contest, "We can have a gig anywhere! When I have a guitar with me, we can sing until the morning." He was more than happy with his morning's work, "We do this rehearsal to feel the stage for the first time and see how deep, high, see where the stairs are, those kinds of things. This is a technical rehearsal. But I always go 100%, I will do the same thing here as on the 12th of May."

There has been great excitement among fans about the return of the Diva, Dana International. Imagine the, the anti-climax when her conference was cancelled due to the late arrival of her flight.
Modest Maja from Slovenia was quite humble at the start of her conference. She said, "The sound was actually even better than I thought it would be – I'm actually not so experienced. I always dreamed about this and when I'm on stage with so many professionals it's just a great feeling! I always dreamed of this performance, it's amazing to be on the stage. Everything is super cool, I have my four strong backing vocals, and we have the women power on our side!" Last year, she finished second in Slovenia's Got Talent. How does in compare to the Eurovision Song Contest? "It's not the same at all; here I'm performing in front of the whole of Europe, not just the domestic audience. I'm carrying the responsibility of representing my country; it's a lot bigger here. I'm actually very relaxed, which is scary."
Although he is part of the Romanian group, lead singer, David Bryan, is English, but has lived in Romania for the past five years. He said he hopes to win votes from his native country. What will he do if he wins the contest? "If we win, I'll run naked around the stadium!"
Third favourite with the bookies is Estonia. What does Getter think of the stage?  "I've never been on such a big stage." Two of her dancers were slightly hurt in the rehearsal, but it was confirmed that their participation is not in doubt.
The most patriotic song this year comes from Belarus. The Head of Delegation informed the gathered media that some changes will be made to the LED light display, which will be toned down a bit. It is just over a week until the second semi-final, so how will Anastasiya spend her time between now and then? "We will go to parties, but most of all – sleep."
The outfits of Latvian duo, Musiqq, were the subject of some questions at their conference. "We want to look different; we think it's pretty important not to lose ourselves in the masses. All in all it's about the song and the performance; we like to think that voters will go for the song, not just the show. We decided to go black and white, and felt that there was less chance we could mess up something that way. My girlfriend helped us with the costumes, she had the vision and you can see how it ended."
Danish band, A Friend in London, received a very warm welcome when they arrived for their conference. The name of the band is unusual and they explained its origin. Lead singer, Tim was in London doing gigs and visiting a friend called Damian. "We were so so close to calling the band Damian but went for A Friend In London instead."
Irish twin brothers, Jedward, turned up for their much anticipated rehearsal and press conference, the last of the day. What do they think their chances of qualifying are? "If we're to believe in omens, we're performing 19th in the 2nd semi final; we are two and 19 years old." They are always very lively, so where do they get all their energy from? "We don't know… Our star sign is Libra. We eat lots of fruits, we drink loads of water, maybe we get our energy from there. But we can't stop, we're hard workers."
Now, all the semi-finalists have rehearsed. Tomorrow sees 13 acts from the first semi-final, Poland, Norway, Albania, Armenia, Turkey, Serbia, Russia, Switzerland, Georgia, Finland, Malta, San Marino and Croatia, have their second rehearsal.