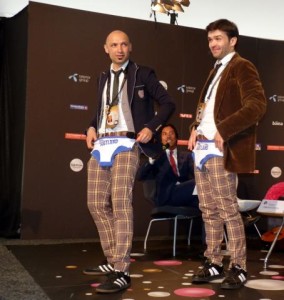 Today, the first eight songs competing in the second semi-final had the chance to try their songs and stage shows on the set for the first time. The press also had the chance to meet them in the obligatory press conference.
Lithuania – InCulto – Eastern European Funk
The lead singer clearly likes a lie-in of a morning saying, "I think it's a crime to make people sing their Eurovision song at 10 in the morning, but apart from that it was great." The devil-may-care atmosphere in the song was continued in the conference, with the band attempting to teach some of the journalists the dance which accompanies the song.
Armenia – Eva Rivas – Apricot Stone
The Armenian singer was asked about the theme of her song. She described it as being about loving ones country. It is not specifically aimed at Armenians living abroad, but to all those living in a different country. Apricot Stone was written about herself and the song lyricist, both of whom grew up outside Armenia.
Israel – Harel Skaat – Milim
Harel seems happy with progress so far, "This was okay for the first rehearsal. People are very professional here in Norway, and that is the most important thing."
The song is essentially about a relationship breaking up, but has particular meaning for Harel, "It's all about the song. And the face is important; I think that the eyes and the face tell the story of the song. And this song touches me deeply. My grandfather died just days before the selections in Israel, and this gives me a very deep feeling, I feel that I'm really singing this song for him. He wanted me to participate in the Eurovision Song Contest for five years, and then he got to hear that I was going to take part in the national selection before he passed away."

Denmark – Chanée & N'evergreen – In A Moment Like This
Chanée & N'evergreen and their backing group started the conference with an acoustic version of the Danish song. Chanée said that, although mostly happy, a few changes need to be made to the special effects and they would like the wind machine to be used more. Because N'evergreen has had a lot of success in Russia, he spends a lot of time there, so they often have to write songs together over Skype.
Switzerland – Michael von der Heide – Il Pleut de L'Or
Michael was in good humour for his conference. He confessed to being a fan of the contest since he was nine years old, "Then I told my mother that I would stand on that stage one day. And here I am – a few months later!"  One of journalist's favourite questions is which of the other songs they like. Michael refused to be drawn, joking that as a Swiss person, he has to be diplomatic. He said that his experience as one of the jurors for the 2009 contest helps him to keep a balanced view.
Sweden – Anna Bergendahl – This Is My Life
Anna explained that the song is about her own life and how to be an adult. She added that her participation in the Swedish version of Pop Idol will help her, although she admitted that the Eurovision Song Contest is a much bigger stage. In particular, she admitted that she hasn't learnt all the camera angles yet.
Azerbaijan – Safura – Drip Drop
Azerbaijan is one of the favourites to win the contest, and Safura's conference was well attended to say the least. At 17 years old, she is one of the youngest singers in the contest, but this doesn't bother her, "I feel very happy at the age of 17 that I am representing Azerbaijan at such a high level competition as the Eurovision Song Contest. Drip Drop is a very special song to me, and people fall in love with it from a first hearing. It is a very touching song and I am very proud to be singing it. I feel a lot of responsibility with the chance that I have been given."
In a moment which could have gone wrong, one of her backing dancers was asked to describe what Safura is like to work with. "Working with Safura is such a gift and a pleasure as she is so sweet and very fine. It is inspiring to see new talent like Safura and to have a new song to try and develop. She is a star and before I was working with her she was a star already. I have a great canvas to work on with the performance." Correct answer, mate, well done.
Ukraine – Alyosha – Sweet People
Environmental preservation is the ideas behind the third song chosen to represent Ukraine, the previous two having to be withdrawn for not complying with the rules. Alyosha said she hopes her song will "touch the hearts and make the world a better place." A video was then shown of a town near the city of Chernobyl which is still uninhabitable due to high levels of radiation caused by the leak from the nuclear power station. The man who directed the video commented, "It was emotionally hard to stay in this dead city, but it was not dangerous to be there for a day. We just had to shoot one part of the clip in Kyiv, as it features a small child and we did not take her to Chernobyl. But everything in the video is real; nothing was shot in an artificial set."