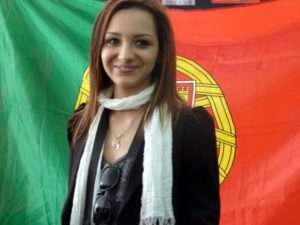 Today, the nine remaining countries in the first semi-final held their first rehearsals and press conferences, including Iceland who, ironically, managed to reach Oslo with no trouble at all while others, like the Irish delegation, are experiencing problems thanks to that volcano.
Poland – Marcin Mroziński – Legenda
No doubt winning over the Norwegian press in an instant, Marcin started his conference in Norwegian on the host country's national day. He expressed satisfaction with his rehearsal. Included in his backing group is a young lady called Veronika, who represented Poland in the junior version of the contest in 2004. Coincidentally, that contest was in Norway too. Marcin told of his desire to maintain the Polish aspects of the song and presentation, stating his opinion that previous Polish entries have been too international.
Belgium – Tom Dice – Me and My Guitar

Tom was asked by the Belgian broadcaster, VRT, to represent the country this year. He revealed that he said yes immediately but would not have participated in a final. His song is one that comes from his life, as his guitar is a very important part of it. He has even been known to take it to the bathroom with him.
Malta – Thea Garrett – This Is My Dream
One of the stranger aspects of any performance this year is the big bird that flaps around Thea while she is singing. Thea used her conference to explain what it is all about, "He is dressed as a seagull, as the seagull is one of the few birds that whatever comes his way, he still flies, and that's the message of the song. When you have a dream, no matter what comes for your way still reach for your dream."
A lot of artists claim to be fans of the contest, but it seems that in Thea's case, it is true, "I have been recording the contest every year and keeping them since 1997. I also record and follow the Junior Eurovision Song Contest. Coincidentally, in 1992 when I was born, a lady called Mary Spiteri represented Malta with a great song called Little Child; I was the little child who was born at almost the very same time as that!"
Albania – Juliana Pasha – It's All About You
While satisfied overall with the first rehearsal, the Albanian delegation said they would be focusing on the camera work for the next rehearsal. In these days of over elaborate staging, Juliana said that everything had been kept simple deliberately so that attention could remain on the song and message. What Juliana wants to achieve most of all is to be on stage not for three minutes, but for six, i.e. to be in the final.
Greece – Giorgos Alkaios & Friends – Opa
After considering black and white for the colour of their outfits, Giorgos revealed that the chosen colour is…………white! "From the start, we did it in black, and for the video, we used both white and black. But we've listened to what Greek fans have expressed on Facebook and YouTube, and most have said white, so we'll stick to that now."
He also said that he has been watching the contest for many years thinking how hard it is to have a song in it. In 2010, he had an opportunity and took it.
Portugal – Filipa Azevedo – Há Dias Assim
Portugal is another country who has kept the staging simple. Filipa explained, "We want to do very simple and beautiful things on stage, but it has to be a very magical thing at the same time too and that's what we are trying to do and we hope that you like it." As one of only a handful of countries performing in the native language, the delegation admitted that they had considered singing in English instead, but opted to keep it in Portuguese because they think it is a beautiful language to sing in.
At the end of the conference, Filipa impressed those present with a version of a traditional Fado song by former Eurovision singer, Dulce Pontes.
Macedonia – Gjoko Tanevki – Jas Ja Imam Silata
Perhaps revealing a bit of uncertainty, Gjoko said that he was happy with his rehearsal and is sure that everything will be right in the end. His song is an unhappy love song about a man trying to leave a girl.  Talking about the rap element in his song, Gjoko said that it wasn't in the song when it was originally written, but that himself and song's composer thought it would complement the song. It took Gjoko three days to reach Oslo as he travelled by car.
Belarus – 3+2 – Butterflies
Talking about their song, 3+2 described it as a song for those who, like butterflies, are moving towards a better life. Butterflies was chosen by 3+2 and broadcaster TRC to go to Oslo after they had won the national final with a different song, and inevitably, this subject was raised in the conference. The reason given was that the original song, Far Away, is an up-tempo song and as all five members of 3+2 are classically trained, their voices are better suited to a ballad.
Iceland –  Hera Björk – Je Ne Sais Quoi
The Icelandic delegation rounded off activities on day two. As a former backing singer, Hera is keen to promote their role. To this end, the conference started with a unique performance of backing vocals from previous Icelandic entries, letting the journalists take the lead vocals.