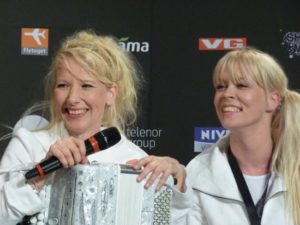 The annual fun and games that is the Eurovision Song Contest has begun again. The next two weeks will see rehearsals, press conferences and parties. Today, eight countries had rehearsed their first rehearsal and press conference.
Moldova – Sunstroke Project and Olia Tira – Run Away

The honour and short straw of opening the first semi-final falls to Moldova. The song is a very modern, up-tempo number. After getting their conference underway with a specially composed, contest themed song, Sunstroke Project and Olia Tira talked about their song as being very positive. Olia was asked to take part to add a female voice to the song.
Russia – Peter Nalitch – Lost And Forgotten
This year, the Russians have sent the most melancholy song to Oslo. In his conference, Peter displayed a sense of humour by suggesting he didn't know what the theme of his song is, before admitting it is about lost love. Commenting on the lighting for his performance, Peter said "We like the stars glittering in the back; it's very romantic and supports the mood of the lyrics"
Estonia  – Malcolm Lincoln – Siren
Siren is possibly the most unusual song in the contest this year. Lead singer Robin Juhkental revealed how the song was born, "When I was 17, I rented a property and there was an old lady who lived upstairs and hated me playing guitar and practicing, so one time she went out to the shop and I wrote the song in the 15 minutes that she was gone, and that's how it was born!."

Another interesting origin is how he came to call himself Malcolm Lincoln. In the American version of the quiz show, Who Wants To Be A Millionaire, in a moment which will no doubt be repeated on out-take shows for years, Malcolm Lincoln was given as an answer to a question about American presidents.
Slovakia – Kristína Peláková – Horehronie
Anyone who had seen the woodland theme of the outfits at Kristina's rehearsal would not have been surprised to learn that her song is about nature and green colours. In the presentation of Horehronie, she plays the role of wood nymph, while the backing dancers are her guardians. The song is based on a poem written by famous Slovak poet, Kamil Peteraj. In these days when most songs are sung in English, Kristina is relaxed about performing in her native tongue.
Finland – Kuunkuiskaajat – Työlki Ellää
The Finnish duo was very happy after their rehearsal when they saw it played back to them afterwards. The biggest fear for them is falling ill just before the semi- final. They also expressed surprise at being in Oslo as they didn't expect to win the Finnish final.
Latvia – Aisha – What For?
Aisha and her backing singers were full of energy at their conference. They were very pleased with their rehearsal and ended the conference by singing a Capella version of What For?
Serbia – Milan Stanković – Ovo je Balkan
Milan said he loves the stage and his goal for the contest is to put a smile on the faces of the people of Europe. Talking about the podiums used for the performance, he said "We want to look like candies from a candy shop, just sweet." Milan and his dancers left a positive impression with the assembled press with their dance routine.
Bosnia and Herzegovina – Vukašin Brajić – Thunder and Lightning
Vukašin and the Bosnian delegation brought the first day of conferences to a close. Before giving an acoustic version of his song, Vukašin said how impressed he was with his first rehearsal. As a qualified teacher, he was asked if that background has helped him in his musical career. "It has helped with my career as I used my theatrical skills to keep children's attention when I was a teacher, it is similar now on stage with trying to hold the attention of the audience." Clearly not one for modesty,  Vukašin said he feels just as at ease with a slow song as a fast one, and that he has the ability to transform his stage persona from angel to devil.