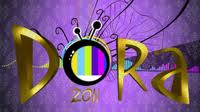 Dora came to a thrilling finish tonight, as Daria Kinzer was picked to represent her country in Germany in May.  The televoters of Croatia have chosen Lahor to be the song to hopefully carry them to success.
Seven weeks after Dora began with 24 performers, it was finally brought to a close with Jacques Houdek and Daria Kinzer battling for the ticket to Düsseldorf.  Over the weeks they'd each performed seven cover versions to popular songs.  Tonight they'd be performing three original songs; each one in with a chance of being Croatia's song for Germany.
We opened with a heartfelt performance of Lako je sve, last year's song from Feminnem. Still a classic.  Leona Paraminski and Alexandr Kostadoniv were again our presenters and first introduced Jacques and Daria, to much appluase from the audience.  Monika Lelas was again in the 'green room'.  Our celebrity judges, but not our jury, were again three illustrious names in Balkan Eurovision.  Tonči Huljić has been associated with Dora and Eurovision for many years.  Severina (2006) was back after her performance of Moja štikla a few weeks ago.  And Andrej Babić has written Eurovision songs for Slovenia, Portugal, Bosnia-Herzegovina as well as his native Croatia.  Indeed, he's had songs in other national finals this year.
The format for tonight differed slightly to the previous weeks.  The two singers would perform the same three songs.  A jury of six, along with a televote in a 50/50 split would then pick one by each singer, which the Croatian public would then vote on.
During the evening, we'd also be treated to interval acts featuring more stars of Croatian Eurovision.  But more of that later.
Jacques Houdek – Još ima nas.  Jacques kicked off with this ballad amidst ribbons attaching him to his five backing singers.  It built, but didn't really seem right for his voice.
Daria Kinzer – Još ima nas.  Then it was red-clad Daria's turn.  This immediately had more appeal coming from her.  Round one looked like it had gone to Daria.
Jacques Houdek – Lahor.  Jacques was first again with the second choice which had been written by Boris Đurđević, a member of the band Colonia.  He was backed by a DJ with twin decks, and this was much potentially a floor filler.  It didn't quite demonstrate Jacques' voice to its full potential, but seemed easier on the ear than Još ima nas.  It went down well with the audience too.
Daria Kinzer – Lahor.  Daria dispensed with the DJ to start with for her interpretation and was herself stood behind the mixing deck.  She employed a wind machine and was dressed in a little black dress.  She also gave a very good performance of this song. 
Jacques Houdek – Stotinama godina.  Finally, we had big ballad which showed off Jacques' range.  It had overtones of Molitva about it in places.  It didn't have the floo-rfilling appeal of Lahor, but was a far superior song.
Daria Kinzer – Stotinama godina.  Daria followed this dressed very elegantly, akin to a member of Feminnem.  She too was able to belt this song out.  This was by far the best song she'd performed and deserved a second hearing when the phone lines opened later during the show.
The phone lines then opened for 10 minutes, in order to whittle the field down to two songs.  While this happened, Tonči Huljić & Madre Badessa entertained us with some traditional Balkan folk music.
Eventually, the envelopes for the final face-off were brought on.  Jacques would perform Lahor (after a tie between the jury and televoting) and Daria would also perform… Lahor.
Whilst our two performers prepared, we were shown montages of Jacques' and Daria's progress thus far.  Some very memorable covers of songs through the previous weeks.
We therefore knew that the song Lahor would be sung in Düsseldorf, but whether it was Jacques or Daria remained to be seen.  They both seemed to put in a better performance this time, knowing that only one of them would sing again.  Five minutes of televoting now stood between them and a ticket to Germany.
Another interval followed, featuring Boris Novković (2005) performing a rock number assisted by an electric guitar and the in-house backing singers.  And he could not leave without singing Vukovi umiru sami.
The lucky envelope was then brough on stage.  Jacques or Daria?  The honour went to…
Daria Kinzer
The song will be performed in Düsseldorf in English