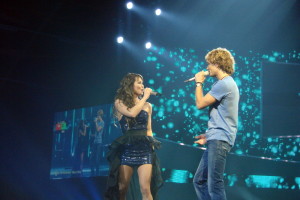 When Chanée & N'evergreen goes on stage at the Eurovision Song Contest in Oslo representing Denmark then it will be with a song both DR and SVT rejected for their 2009 selection. A year ago none of the countries liked In A Moment Like This.
It is a bit of mystery how the same song can be rejected in both countries and then the year after win a very strong Dansk Melodi Grand Prix, but that is what happened to In A Moment Like This. Danish newspaper Politiken writes that the song, which is written by Swedish songwriters Thomas G:son, Erik Bernholm and Henrik Sethson, originally was intended for Melodifestivalen, but as they thought it had more of a Danish sound to it they also submitted it for Dansk Melodi Grand Prix. Neither of the two broadcasters however thought it was good enough for their 2009 selection.
Danish broadcaster, DR, changed their mind and allowed it to compete as one of the 10 songs in this year's Dansk Melodi Grand Prix where it then surprised everyone and won over the well known established singer Bryan Rice in the super final.
Henrik Sethson says that the song has only been tried in Denmark and Sweden due to the Danish sound: "We have always felt that it had something Danish to it and you can clearly hear the similarity to for example Hanne Boel and Sanne Salomonsen. We have therefore never thought about sending it to Norway or Finland".
Despite not being good enough for 2009 Chanée & N'evergreen is ready to represent Denmark at the 2010 Eurovision Song Contest and do what they can to show that In A Moment Like This is more than just a national winner. You can see the performance from the national final via youtube below