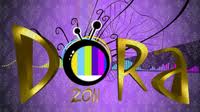 Croatia's Dora festival continues tonight, in a bid to win Eurovision in May.  Twelve singers aim to follow six lucky performers from last week, by getting through to the next stage taking place over the next two weekends.
Croatia's selection process this year mirrors the German selection process in 2010.  Over two weeks, 24 performers are narrowed down to 12.  Last week, the first dozen performed covers of songs – some in Croatian, some in English, in a bid to reach the next stage.  Tonight the process is repeated with the second 12 performers.
A panel of experts, including Vanna (2001) will guide the televoting public of Croatia from a studio at Hrvatska Televizia in Zagreb.  A webcast of the programme, starting at 2010 CET, can be found by clicking on the link below.
The lucky hopefuls are:
Darija Kinzer
Renata Holi
Mijo Lešina
Marija Rubcić
Manuela Svorcan
Katica Marinović
Doris Teur
Mirko Švenda
Diana Heraković
Ana Eškinja
Filip Dizdar
Saša Lozar
Croatia's success in Eurovision wobbled slightly in 2010, when Feminnem failed to make the Saturday night final with Lako je sve.
Links