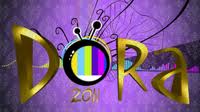 Croatia's new approach to selecting an act for Düsseldorf continued tonight, as a further six acts were chosen for the next stage.  Like last week, the 12 hopefuls were covering songs they hoped would do enough to get them a little further.  Five would be announced on the night, with the sixth lucky winner being announced next week.
The Croats have had patchy success in Eurovision recently, surprisingly missing out on a place in the Saturday night final in Oslo. After spying Germany's success with their format last year, HRT have gone the same way.
Our host Aleksandar Kostadinov was joined by celebrity judges Vanna (2001), Luka Nižetić and Sandra Bagarić (2007). Our judges would offer their expert views after every third performance.  Some of the songs were Balkan classics, while others were originally by North American performers.
After a lengthy introduction of the backing band El Dorado, the backing singers, the expert jury and the performers, it was explained that televoting and SMS (text) would decide tonight's finalists.  The next stage is a round where the 12 selected from the last two weeks will compete for six places in week 4.
Our 12 lucky hopefuls were:
Renata Holi – Ja za ljubav neću moliti
Red-headed Renata was dressed in white, and backed by a saxophonist for this Nina Badrić number.  Very jazzy, and seemed to suit her voice.
Mijo Lešina – Signed Sealed Delivered
Mijo had a lot of help from the backing singers with this Stevie Wonder classic.  This was a big number, and he carried it off quite well.
Manuela Svorcan – Da smo se voljeli manje
For some reason, we were told that Manuela weighed 52kg.  Is weight a factor for a Eurovision entrant?  The photogenic Manuela was sat upon Feminnem's white park bench, singing her way through this song formally a hit for Jinx.  The crowd seemed to like this one.
Darija Kinzer – A New Day Has Come
Darija had chosen a Céline Dion song.  A tough one, but an excellent choice if she could pull it off.  She had a credible English accent, and appeared to put her own stamp on this, and not try to out-Céline Céline.  She got an enthusiastic reception.
Doris Teur – Stop
Doris started to sing this Natali Dizdar song (not the Omar Naber song) from the plush sofa where the 12 performers eagerly awaited their turns to sing.  A blonde dressed in black, she again performed well.
Diana Heraković – Respect
Back across the Atlantic for this Aretha Franklin standard that was heavy on the brass section of the house band.  To be fair, she did give this song the respect it deserved and you could tell she was enjoying herself.  She did however wobble occasionally with the vocals.
Mirko Švenda – Da li znaš da te volim
Mirko was only our second male performer of the evening.  He'd opted for a local tune by the prog-rock band Time.  A ballad, very well sung, practically unaccompanied by the in-house backing songers.  He even managed a bit of a dance with expert Sandra.  He could be one to watch.
Katica Marinović – I'm Outta Love
An Anastacia cover was Katica's choice.  She had opted for a tight black dress with a large belt to emphasise her figure.  Her song was a good choice as a crowd pleaser, and everyone was dancing along to this.
Ana Eškinja – Kao da me nema tu
Ana had a tough gig, as she was performing a song originally recorded by… Vanna.  She was also very strikingly dressed in white, with the shortest black mini-skirt seen for a while.  The backing singers had a lot of unput into this.  And Vanna seemed impressed.
Marija Rubčić – If I ain't got you
Into the final quarter now, and Marija gave us a cover of the Alicia Keys song.  This was very credible, and she had a decent enough English accent.  It looks like we haven't heard the last of Marija.
Filip Dizdar – Nebo iznad nas
Filip's choice was by another former Eurovision entrant Toni Cetinski.  This 'lounge-music' type song involved a lot of movement from Filip, and a lot of saxophone.  The six qualifiers might not be so easy to pick now.
Saša Lozar – Billie Jean
Finally, we had Saša with his tribute to Michael Jackson.  This big number had a bit of improvisation in true Jackson style.  He even managed a little moonwalk.  Another qualifier perhaps?
After the 12 songs had been performed, we were reminded that there was just 10 more minutes to register a vote.  We then had the customary recap.  Then while the final seconds counted down, judge Sandra was joined on stage by Kraljevi Ulice, her partners in crime from 2007.  No 75 Cent though (or should that 79 Cent).  Our genial hosts than had a short chat with them while the votes were being verified.  Our other judge Luka then performed a little 'nostalgia' number with the house band.
Now to the results.  Who would the lucky fivebe?
Katica Marinović
Ana Eškinja
Doris Teur
Saša Lozar (won the televote)
Mirko Švenda