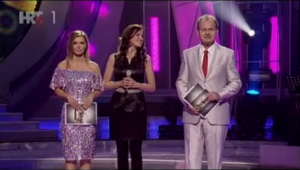 Week four of the new Dora format saw the six singers being reduced to four. During the upcoming weeks, the Eurovision dream for two of the remaining four would will come to an end as well. And, who would join the five names announced last week?
The show took place in the HRT studios in Zagreb tonight. All viewers could to see the hosts after a long introduction clip before the special guest of the night, Karolina Goceva who represented F.Y.R. of Macedonia at the Eurovision Song Contest both in 2002 and 2007 welcomed us with a performance in Croatian. At the end of last week's show five names were announced and the Croatian public had to wait until tonight to find out who would be the sixth. 
After Karolina's performance, the hosts of the night Alexander Kostadinov and his partner Leona Paraminski joined her to open tonight's show. After a short interview, Karolina announced the participiants of the night: Ana Eskinja, Daria Kinzer, Jacques Houdek, Katica Marinoc, Mirko Svenda-Ziga and finally… Doris Teur.
Now it was time to introduce tonight's jury members which began with one-time Dora runner up Tomislav Bralic, who took part in Dora 2009 with his harmony-singing group Intrade with the other members, well-known name Ivana Banfic who is a former Dora participant and actress and at last opera singer Mirjana Bohanec. Before starting with the performances we heard a short repitition of the rules.
Katica Marinovic – Tvoje Ljubav (by the Bastardz): was the first performance of the night which was sung in Croatian. Katica was good on the stage with her interesting body mirrors instead of her dancers. This up-tempo song actually warmed us for the show.
Jacques Houdek – Oprosti (by Gibonni):was the second performer of the night. We geared down with his ballad performance which made us feel a bit more interested. His performance was bilingual, both in English and Croatian.
After these two performances, the jury of the night expressed their thoughts about the two participants in Croatian that we couldn't understand in English at all. According to applauses, they spoke highly about Katica and Jacques. As far as I understood Jacques and Katica answered a couple of questions including "How long is it between Zagreb andDüsseldorf?", "What's the temperature in Düsseldorf approximately in a year?" and "How many hours does it take by driving?". The duo showed they were not bad at geography with their answers.
Ana Eškinja  – Carobno jutro (by Nina Badric): Ana switched back to her native language in her ballad this week. Her voice was warming everyone in the studio in this cold february night. She really has many fans in the studio.
Mirko Švenda-Žiga – U Ljubav Viera Nemam (by Oliver Dragojevic): was the forth act of the night which took the tempo a bit higher. He tries to show his talents of his mature music career. He really has a strong voice showing how experienced he is.
It was time to ask the jury opinions again. It will be a really hard decision for the jury to elemine two names tonight. They continued with the same questions they had asked before. This duo was not as good at geography as Jacques and Katina were.
Daria Kinzer – Da Ti Nisam (by E.T.): We were back to the 5th song with Daria. This up-tempo song enthuses audiences in the studio though her vocals are not the strongest ones tonight.
Doris Teur – Danas Sam Luda (by Josipa Lisac) :Doris looked like that she was still suprised to get another chance in Dora, but shoudn't it have ended before she would be eleminated again? Her up tempo song was good rhytymical but was not performed that well. 
After Doris' performance, we heard the critism of tonight's jury on our participiants Daria and Daris. Those previous questions were also asked to the last couple of the night. The countdown for televoting started on the right-up of the screen. During this process, Tomislav Bralic & Klapa Intrade performed Ne Damo Te Pismo Nasa which was participated on Dora, after snippets of tonight's show had been shown. 
Karolina Gocheva entered the stage again and as a Macedonian popstar and she performed another song in Croatian (Slavic), Vise Se Ne Vracas. Then all the participants have their say for the last time tonight before Mirjana Bohanec performed an old Croatian song Hvala Ti Srce.  
According to the procedure, one name in each pair of presentation will go through to the final of Dora. And finally it was time to announce the lucky names after all:
First qualified participiants was,  Jacques Houdek!

Daria Kinzer to announce second!

Third of the lucky name was, Mirko Švenda-Žiga!
Doris Teur, Ana Eskinja and Katica Marinovic couldn't make it to the final of Dora 2011. One of the winners of tonight's Dora, Mirko Švenda-Žiga performed his song U Ljubav Viera Nemam for the second time at the end of the show tonight.