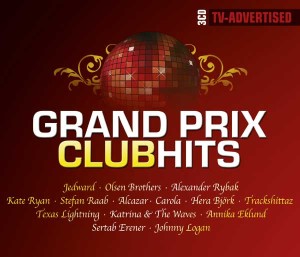 This year's Eurovision Song Contest in Baku is about to start soon. Right on time the compilation Grand Prix Clubhits, consisting of three discs, was released in Germany.
The compilation features 66 uptempo songs which were chosen by the two German DJ's DJ Ohrmeister from Cologne and DJ Douze Points from Hamburg. Both are known to lots of Eurovision fans all over Europe.
The discs contain a great variety of songs. While CD 1 features 22 Eurovision entries between 1999 and 2011, CD 2 contains remixes. On CD 3 entries from national finals can be found that did not make it to a Eurovision Song Contest.
Tracklist:
Disc 1:
01 Jedward – Lipstick / Ireland 2011
02 Eric Saade – Popular / Sweden 2011
03 Soraya – La noche es para mí / Spain 2009
04 Hadise – Düm tek tek / Turkey 2009
05 Elena Risteska – Ninanajna / FYROM 2006
06 Sakis Rouvas – This is our night / Greece 2009
07 Charlotte Perrelli – Hero / Sweden 2008
08 Lou – Let's get happy / Germany 2003
09 Charmed – My heart goes boom / Norway 2000
10 Esther Hart – One more night / Netherlands 2003
11 Fame – Give me your love / Sweden 2003
12 Kate Ryan – Je t'adore / Belgium 2006
13 Sarbel – Yassou Maria (Greenglish Version) / Greece 2007
14 AySel & Arash – Always / Azerbaijan 2009
15 Beth – Dime / Spain 2003
16 Charlotte Nilsson – Take me to your heaven / Sweden 1999
17 Kati Wolf – What about my dreams / Hungary 2011
18 Euroband – This is my life / Iceland 2008
19 Waldo's People – Lose control / Finland 2009
20 Texas Lightning – No no never / Germany 2006
21 Madcon – Glow – Interval Act 2010
22 Stefan Raab – Satellite – Intro Act 2011
Disc 2:
01 Antique – Die for you (Die For Disco Radio Mix) / Greece 2001
02 Sertab Erener – Everyway that I can (Philippe Laurent from Galleon Radio Edit) / Turkey 2003
03 Elena – The Balkan girls (DJ Daronee Remix) / Romania 2009
04 Hera Björk – Je ne sais quoi (Clubmix) / Iceland 2010
05 Alexander Rybak – Fairytale (DJ Lello Remix) – Norway 2009
06 Carola – Främling (Remix) / Sweden 1983
07 Johnny Logan – Hold me now (Remix 2001) / Ireland 1987
08 Ira Losco – 7th wonder (Club Mix) / Malta 2002
09 Anna Vissi – Everything (Valentino & Christodoulos Siganos Remix) / Greece 2006
10 Didrik Solli-Tangen  – My heart is yours (7h Radio Remix) / Norway 2010
11 Ines – Once in a lifetime (Paradise 9 Remix) / Estonia 2000
12 Lars A Fredriksen – All I ever wanted (was you) (Remix) / Norway 1998
13 Andrea Demirović – Just get out of my head (Finger & Kadel Radio Mix) / Montenegro 2009
14 Gina G – Ooh aah… just a little bit (Motiv8 Radio Edit) / United Kingdom 1996
15 Corinna May – I can't live without music (Energy Mix) /Germany 2002
16 Maria Haukaas Storeng – Hold on be strong (Deepfrost Café Radio Mix) / Norway 2008
17 Michael von der Heide – Il pleut de l'or (Full of Grace House Mix) / Switzerland 2010
18 Getter Jaani – Rockefeller Street (Remix) / Estonia 2011
19 Katrina & The Waves – Love shine a light (Xenomania Club Mix) / United Kingdom 1997
Bonus-Tracks:
20 Olsen Brothers – Waterloo / Sweden 1974
21 Olsen Brothers – Fly on the wings of love (New 2010) / Denmark 2000
22 Olsen Brothers feat. Nicole – Ein bißchen Frieden / Germany 1982
Disc 3:
01 Danny – In the club / Preselection Sweden 2011
02 Alcazar – Alcastar / Preselection Sweden 2005
03 E-Rotic – Queen of light / Preselection Germany 2000
04 Annika Eklund – Shanghain valot / Preselection Finland 2006
05 Fabrizio Faniello – No surrender / Preselection Malta 2011
06 Ditte Marie – Overflow / Preselection Denmark 2012
07 Love Generation – Dance alone / Preselection Sweden 2011
08 Leon – Planet of blue / Preselection Germany 1996
09 Guide – Vi lever här, vi lever nu / Preselection Sweden 2000
10 Karmen Stavec – Še in še / Preselection Slovenia 2002
11 Marquess – La histeria / Preselection Germany 2008
12 Saša Lendero – Mandoline / Preselection Slovenia 2006
13 Rongedal – Just a minute / Preselection Sweden 2008
14 Mia – Hungriges Herz /Preselection Germany 2004
15 Kostas Martakis – Always and forever (Eurovision Version) / Preselection Greece 2008
16 BWO – Temple of love / Preselection Sweden 2006
17 Sanna Nielsen – I'm in love / Preselection Sweden 2011
18 La Casa Azul – La revolución sexual / Preselection Spain 2008
19 Måns Zelmerlöw – Cara mia / Preselection Sweden 2007
20 Petra Frey – This night should never end / Preselection Austria 2003
21 Jenny Silver – Something in your eyes / Preselection Sweden 2011
22 Trackshittaz  – Oida Taunz! / Preselection Austria 2011