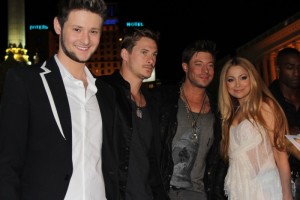 The United Kingdom participants, Blue, met the duo from Azerbaijan, Eldar & Nigar (Nikki), at a special concert in Kiev.  It turns out that Nikki lives in London where the guys from Blue originate from.
Nikki was born in Azerbaijan but moved to London in 2005 when she got married to her husband, Luke.  She had a lot to talk about with the boys from Blue with living in the same city.  Anthony Costa from Blue and Nikki also support the same football team, Tottenham Hotspur.
Last year, Nikki, decided to return to Azerbaijan to take part in their national Eurovision selection.  Nikki was selected with Ell to represent her country at the 2011 Eurovision Song Contest with the song, Running Scared.
Blue have been enjoying their promo tour of Europe to promote their song, I Can.
Both United Kingdom and Azerbaijan are strongly tipped to do well at the Eurovision Song Contest in Germany.