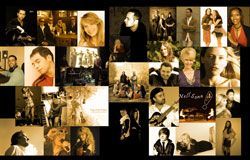 Belgium's extra selection stage took place on a sleepy Sunday morning in VivaCité Studio 2 in Mons.  After a better than expected interest in Eurovision, RTBF needed to cut its final 30 down to a lucky 14 for their final.  Would the flavour of this final be English or French?
Probably not since the UK's selections of the 1990s had a radio programme been used to choose songs for a national final.  But RTBF and the French-language radio channel VivaCité took this novel approach which had generated a huge amount of interest in Belgium.  A three-hour prgramme awaited us.  However, they'd had the foresight to set up a webcast which gave us a better feel as to how the songs would look.  We also had an audio recap after every fifth song with a reminder of the televoting and SMS numbers.
After very little chat from host Jean-Louis Lahaye it was onto the songs:
Clac et les Portes –  Claquer les portes.   We kicked off with a folk-inspired band.  A little bit Urban Trad-like with accordion, violin, double bass among the ensemble, this was a good opener.
Thayss N'Bau – Somewhere with you.  Our first song in English was a duet, she was on vocals, he sang and played the keyboards.  An orchestral arrangement of this song enhanced it.  And we had our first key change.
Hanny-D – Près de toi.  Back into French for this euro-banger.  Hanny, dressed in orange, had two very enthusiastic backing singers and this was a very jolly song.  Bound to qualify?
Hélène – Our home.  Hélène was sat at the piano with a song about fighting and war, and how we should stop.  She looked a little nervous but it was extremely heart felt.
Natohé – For you.  In contrast to the last song, we now went uptempo in the style of 1970s singer Lene Lovich.  Indeed it was all very electro-pop and with the right arrangement could potentially be a floor-filler.
.fen – Yes I know.  Our English language theme continued with a five-piece band with various guitars and a ukelele.  All very laid-back, and not unlike the style of Sigurjón Brink's song Waterslide.
Chloé – Just one chance.  Young Chloé was joined on the small stage by two backing singers, similarly dressed in black.  She had a good enough English accent and this uptempo song came across very well.  Another one you could probably hear in the Düsseldorf Euroclub in May.  It even had a beloved key change.
Harley – Pardonne moi.  Another band (some of whom had seen a few summers) performing a part-spoken, part-sung slightly angst-ridden rock ballad.  Our lead singer was in a long black coat with silver accessories.
J Cool –  Dans ma chanson.  J, in his black suit and pink tie, gave us a 1930s/40s style swing number.  It probably lacked a little something as it needed a big band to accompany him.  But he did play the air trombone.
Françoise Norroy – Je vis comme une chanson.  Françoise sounded a little nervous performing this song.  But she was ably assisted by her three backing singers and gave it a very good go.
Alexandre Deschamps – Elle merveille.  We had another accordion for this jaunty little number.  Alexandre could obviously be a bit of a charmer and the song had a familiar ring about it.
Joe Galli – Live my life.  After a stretch of French songs, we cam back to English in dramatic fashion.  His English was not the best, but with enthusiasm like this, he may get through to the last 14.
The MichelJanssens – Fais comme ci.  This band was another of our more mature bands and had a slightly quirky style.  The female keyboardist provided good harmony to this odd song.
Etienne Deleyre – The way you are.  Our first bilingual song of the day was performed by a male duo.  It had a slightly bouncy feel with a potentially catchy chorus.  They almost seemed to be improvising at one stage.
Kaptain Oats – Reset.  Rock band time again, and no reference to the Antarctic.  This was the sort of song you could the Kings of Leon performing. The small stage didn't really do this song justice, but if it made it through to the final, we could have a different story.
Nelza – Be my friend.  Nelza performed a song that was slightly reminiscent of Alexander Rybak's Fairytale. The two brunette girls singing harmonised well and all of a sudden this contest kicked into life. 
Tommy Waters – I'm alive.  Another band crowded onto the modestly-sized stage.  And contrary to their look, we had another rock ballad.  And it wasn't a bad one at that.
Syla K – Simple love.  A man with a falsetto voice kicked off this gospel/R&B-inspired number.  Again, a very credible song which could do well if it overcame the semi-final hurdle.
2Days Ticket – A journey inside me.  This band had cardboard instruments!  A cardboard drum kit and two cardboard guitars were definitely original.  The lead singer was very nervous and unfortunately there was something odd about his intonation at the start of the song.  It did start to pick up as the song went on, and it had a quirky ending.  All in all, quite entertaining.
Mael – L'ancre de nos vies.  Young Mael was alone on stage, with an orchestral backing track.  This song tested his entire range and was quite heartfelt.  It seemd there was a small chance that this might get lost in the mix.
The Blazing – Our way.  The Blazing were a five-piece vocal group dressed predominently in black with flashes of pink.  It had overtones of possibly something Scandinavian.  As English accents go, there have been worsem but also better in this competition.
Nellsonn! – Commence par un pas. Nellsonn! consisted of two girls on keyboards with a guitar-playing gent on backing vocals.  The overall effect was very 'safe', well harmonised and quite sophisticated.  But would the voters of Belgium like it?
Gautier Reys – Addiction. Young Gautier had a very memorable haircut.  He was on stage by himself, but you couldn't help thinking he needed a band backing him.  If he'd got that, he'd be a cert for the final.  On this performance you couldn't be so sure, but it deserves a place in the final.
Witloof Bay – With love baby.  Witloof Bay (a slight pun on their song title) used their full quota of six performers on stage, and were completely a capella.  It was slightly funky and most of the singers took a turn singing the lead.  Acts of this type have mixed success at Eurovision, so while it was pleasant enough, a capella can still be an acquired taste.  This was also our last song entirely in English.
Joyce & Jay – Do you remember?  Our presenter had a lot to say about male/female duo Joyce & Jay.  Our second bilingual song seemed to work better than the first, although the chemistry between them was questionable.  A good effort, but maybe not a qualifier.
Swing Channel – Les pieds dans l'eau.  Picture Texas Lightning dressed as gondoliers, and you'll have the measure of how this band looks.  But that's where any similarity ends.  Our mature band performed something not out of place in Eurovisions 50 years ago.  Our lead singer even sang barefoot to emphasise the sentiment behind the song.
Steve Linden – C'est la musique.  Steve put his heart into this song and it showed.  It built well and he showed confidence in the delivery.  You can imagine this being performed in the Belgian final on 12 February.
Léa Clément – Où s'en vont nos rêves?  Léa looked a little Lisa del Bo in appearance (but without the shuttlecock dress) and sang this intense midtempo song with feeling.  It's one of those that you've heard before, but could still grab you and make you vote for it.
Bellyve – Nos pages, nos images.  Bellyve had changed from a male soloist to duet since it was announced they'd qualified.  Another one of those safe songs that builds in a pleasant manner.  The guitar riff in the middle of the song provided some variety.
Sarina – Rien en apparence.  Finally, we got to Sarina, who was performing alone on stage sat at a keyboard.  She was very young, was understandably very nervous, but had a very good voice, seemingly too mature for her years.  It has to be said that there is definitely something about this song.
And that was it.  Thirty performances for 14 slots on 12 February.  We had a brief recap as the 10 minutes left to vote ticked away.  Bearing in mind this was primarily a radio programme, we had the extended news at 1300 CET before the results were announced.  They were (in no particular order):
Chloé, Alexandre Deschamps, Syla K, Thayss N'Bau, The Blazing, J Cool, .fen, Nelza, Steve Linden, Clac et les Portes, Sarina, Kaptain Oats, Gautier Reys, and Witloof Bay.
The final is on 12 February.