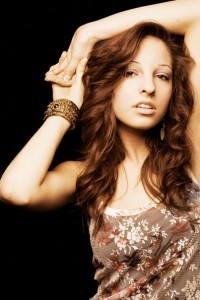 Another country, Belgium, who picked its representative name internally, will hold a mini national final on Saturday. The representative, Iris, will be performing two ballads, Would You and Safety Net to decide the participating song at the 2012 Eurovision Song Contest in Baku.
After the success of an internal decision, Tom Dice in 2011 and the failure of national final winner, Witloof Bay, last year, the national broadcaster Één switched back to an internal selection for the 2012 Eurovision Song Contest and announced Iris to represent Belgium in Baku. Then, as in the agreement, Iris started to work on bringing two new songs for the mini-national final.
The mini-national final where the winning song will be determined after a televoting, will be held this Saturday. The show will start at 20.00 CET and will be broadcast live by Één via web and satellite. Iris will perform two ballads Safety Net and Would You, and then one of them will be chosen as the Belgian representative entry.
The first song Safety Net, is about a girl who is looking for security in this unsafe, uncertain, and quickly changing world. She finds guidance at last and now she can fall in love with confidence. The second song, Would You, is a very sad song in which she doubts the sincerity of her love.
The young talent, Iris (full name Van den Bruel) is just 16 years old. Late in 2011, she hit the charts with her latest song, Wonderful, for more than a month. The declarations of Iris and the broadcaster show us the success this brought her by having the honour of representing Belgium at the song contest in Baku, as the channel admits they have found her via YouTube. Wonderful is in the Country style, unlike Safety Net and Would You?
Iris will have extra pressure on her shoulders as Belgium couldn't make it to the final last year. This year Belgium will be participating in the first semi-final of Eurovision Song Contest on May, 22nd.