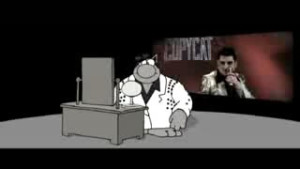 For a while we have known that Belgian Elvis impersonater Patrick Ouchène will be representing the country at the 2009 Eurovision Song Contest with the song Copycat. The song was presented today and as the second video teaser implied it was with clear hints to a famous Belgian comic strip.
This year it is RTBF, the broadcaster for the French speaking part of Belgium, that represents the country at the Eurovision Song Contest. As it is common for them an artist has been selected internally. Patrick Ouchène has been giving the honour and the challenge to bring the split country back to the Eurovision Song Contest final where they haven't been since 2004 where Xandee came third to last with her 1 life.
Patrick Ouchène is a well known Elvis Presley impersonator which the song as well as his dancing rutines clearly shows. The video presented today also included Le Chat, a well known comic strip figure from 1984. It is created by Belgian cartoonist Philippe Geluck and is known for taking everything literally and coming to absurd conclusions.
Below you can watch the video for Copycat that will be representing Belgium at the 2009 Eurovision Song Contest in May and time will then tell if the TV viewers across Europe, absurd or not, will come to the conclusion that Patrick Ouchène and his cat will be winning the whole thing in Moscow.