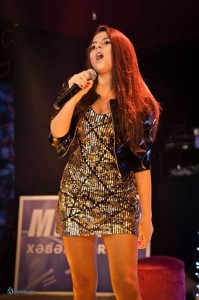 Aynishan Quiliyeva was one of 5 finalists in this year's Azerbaijan Eurovision selection.  She will now represent her country at the Slavianski Bazaar contest in Belarus.  The annual festival is a very important annual event for Slavic countries and many Eurovision singers participate.
The festival takes place this year as normal in the city of Vitebsk between 11 and 14 July.  Many Eurovision singers have performed in previous years including Ruslana, Pyotr Elfimov, Dima Bilan, Željko Joksimović and Toše Proeski.  The contest is for Slavic countries but non-Slavic countries are invited too.

Aynishan will this year represent Azerbaijan.  In the Azeri semi final for Eurovision she received 25,000 votes more than 10,000 more than any of the other semi finalists.  She eventually lost out to Eldar & Nigar but this time the stage is her own.  She is 19 years old and is the daughter of famous Azeri singer Aybeniz Hasimova.
EuroVisionary wishes Aynishan good luck at the festival and we may even see her at a future Eurovision Song Contest representing Azerbaijan.
Watch out for more stories regarding the Slaviansky Bazaar festival on EuroVisionary. 
You can see Aynishan below performing the 2009 Albanian Eurovision song, Carry Me In Your Dreams.