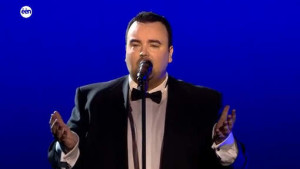 Tonight in front of thousands of screaming fans at the Antwerp Sportpaleis Axel Hirsoux was voted the winner of Eurosong 2014 and represents Belgium in Copenhagen with the song Mother. This evenings final featured a special performance from Belgium's one and only winner Sandra Kim.
Over the past couple of months the Belgian Eurosong programme has been staging the process to find the act who will follow in Roberto Bellarosa's footsteps and represent the country at this years 59th Eurovision in Copenhagen. Over the past three weeks the finalists have been whittled down from the Sunday night Semi Finals and now the final six acts remain.
The Songs
1 Yass – Need You Tonight – (M & T:) Yass Smaali / Yves Gaillard / Ashley Hicklin / Leon Paul Palmen / Rupert Blackman
Yass is shown with his family and drumming up support in his video tonight performing Need You Tonight out in the public. This song again reminded me of King's of Leon and Use Somebody in the initial notes played here. Yass is wearing a rather Bruno Mars inspired mustard flock style jacket with his hair in a large quiff, ditching the hat worn in his semi final. He has his guitar over the shoulder which he plays throughout. Verses of Need you Tonight are in french and then chorus in english. It's quite a radio friendly track, slow and guitar based throughout with a brief stomp drum break which see's Yass doing some body popping moves. Seems like the setting could be a dark cold spot on a lonely night. On the Sportpaleis stage his on stage team include four backing dancers, who seem to be cold, lonely, afraid but they come together to perform and feel warmer by the need you tonight chorus. This is a good start but the song may not have enough going for it to be the eurovision entry for Belgium this year.

2 SIL – What's The Time in Tokyo? – (M & T:) Marcella Detroit / Marcus Winther-John / Paul Drew / Greig Watts / Pete Barringer
SIL is shown in the airport looking at the depatrures board and she recalls how her performance of the this song went on her first semi final. Tonight SIL is the lady in red one shoulder dress with her hair swept up and gently quoffed. The performance is very commanding accompanied on
stage by piano, cello and viloins she really works the stage well and performs straight out to the venue. Her conviction and her composure are clear to see as she delivers a really great performance. Like in her semi final I still believe
her performance, and she really gives this her all. Very strong,a potential winner tonight.
3 Udo – Hero (In Flanders Fields) – (T & M: Pokka Jr / Nadge / Udo Mechels)
Having been warned by Ruslana about his vocals in the semi final Udo was reminded of this by her and the other experts that his lift was not necessarily something the song needed. Udo is again on stage with his five piece backing  group who are passing on the inspirational and uplifing message of the fields in Flanders during war. Udo wears a blue
suit and has quite a high quiff hairstyle. The backing group of two
singers and three further interpretive dancers in white all performers
on stage give the extra feeling to this. Udo was not raised up by the support performers on this night, so they scaled it back. Less was more I say. They have a white flag with a dove of peace on the flag, the backdrop on
stage is poppies. At the more expressive notes Udo's vocals seemed to break and were not consistant which at this level shows that he may be unable to pull this song off on the Copenhagen stage.
4 Bandits – One – (M & T:) Tony Adams Rosa
Could Bandits be the Belgian Beatles or the musicial instrumental One Direction? The fans in the audience, mostly teenage females seem to think so. The boys from the band are shown looking forward to tonights show while performing a gig since last weeks semi final qualifier. The aforementioned audience know the words of the song in full and are singing from the start. Bandits are a four piece, three guitarists and a dummer. Behind them on set are stacks of amplifiers. Their song is catchy and young and has a strong chorus. "We're one tonight, together we're one tonight" the way they sing about how "she" makes me feel is very One Direction. And the girls are loving it. One may not be the best song of the show but the audience certainly approved. 
5 Eva Jacobs – Nothing is Impossible – (T & M: Mick Lee / Pernille Georgi / Chris 'Ruff Diamond')
Eva's video shows her trying on a dress ahead of tonights show. She is also seen with a performance coach who is there to help her with her singing. Eva performs the song initially behind a white grand piano. Her backing singers have now been changed to one male and two female and they move more than they did in the semi final as are the male and female interpretive
dance couple who tell the story of the song through dance. It certainly
adds a further dimension to the whole thing, but they seem to have been demoted silightly then they were previously with Nothing is Impossible. Eva is looking beautiful
with a shoulderless gown with an ivory skirt which has a slight train at the back. l. Nothing is Impossible was performed really well and could be a serious contender. An attempt at vocal gymnastics with Ruslana however goes haywire during the comments. 
6 Axel Hirsoux Mother – (M & T:) Ashley Hicklin / Rafael Artesero
Last week Axel performed Mother in studio, and just a week later here he is in Antwerp. He is shown out and about posing with fans in Antwerp ahead of the final. He sings for the public also and recaps how well the scores went for him last week. Wearing a black tie tuxedo Axel takes to the stage. The piano based opens of the song are quite beautiful. His voice is clear and he delivers Mother really emotionally. On stage an interpretive dancer who is a symbol of mother is there on stage with him. I think this could be the winner tonight. Axel is a great singer.
The Show
The opening performance of the show is tonights finalists performing J'aime la Vie alongside Sandra Kim. Joined on stage by flag waving dancers. Our hosts for the Eurosong 2014 Final are the series presenters Peter Van de Veirs and Eve Daeleman who get a big introduction to the stage during the opening number tonight. Peter wears a grey and black patch effect suit with a black bow tie with Eve in a strinking red dress and heels.
The stage in the venue is the same one from the TV studio in Vilvoorde with the jury panel on the side of a large LED screen backed set. During each performance the backdrop changesto great effect and is enhanced further by the lighting. Beween the songs Peter and Eve take it in terms to go to the side of hall green room which has also been installed with for the final with the acts all seated and watching and awaiting their fellow contestants to perform.
On this the final show of the series there was a special guest performers from the Eurosong 2014 panelist Ruslana gave an impassioned speech to stop the threat of war in Ukraine. She then performed her track Euphoria and then Wild Dances her 2004 Eurovision winner.
The Voting
This evening the panel of experts are on hand to give a critque but they do not have a say on the vote. The panel are Eurovision 2004 contest winner Ruslana of the Ukraine, Piet Goddaer, Bart Peeters, Jef Martens.
For the final a jury of international countries have a say on the final outcome.
Denmark
4 points to SIL
6 points to Udo
8 points to Axel Hirsoux
10 points to Eva
12 points to Yass
Belarus
4 points to Udo
6 points to Bandits
8 points to Axel Hirsoux
10 points to Eva Jacobs
12 points to Yass
Spain

4 points to SIL
6 points to Eva Jacobs
8 points to Bandits
10 points to Yass
12 points to Axel Hirsoux
Macedonia
4 points to Bandits
6 points to SIL
8 points to Yass
10 points to Axel Hirsoux
12 points to Eva Jacobs
The Netherlands

4 points to Eva Jacobs
6 points to SIL
8 points to Yass
10 points to Bandits
12 points to Axel Hirsoux
Azerbaijan
4 points to Udo
6 points to SIL
8 points to Yass
10 points to Bandits
12 points to Axel Hirsoux
Ireland
4 points to Bandits
6 points to SIL
8 points to Udo
10 points to Eva Jacobs
12 points to Axel Hirsoux
At this point Axel Hirsoux was in the lead with 74 points.
After Ruslana's performance Peter and Eve return to the stage and have changed. They are now in black and gold colouring.
From combined televote result:
SIL gets 6 points and finishes with 38
Udo gets 10 points and on 32
Yass get 19 points from the televote and finishes on 77
Eva Jacobs gets 37 points from the vote and is on 89 points
Bandits receive 48 points and finish on 90 points
Axel Hirsoux gets 160 points and has a total of 234 making him the winner of Eurosong 2014
Axel Hirsoux will perform Mother for Belgium in the first semi final on May 6th from B&W Hallerne
Belgium at the Eurovision Song Contest
Belgium are one of the original participating nations in the song contest having taken part in the very first Eurovision held in Lugano in 1956. To date they have won the contest on one occasion. This was with the teenage Sandra Kim who sang J'aime La Vie in 1986. Belgium staged the 1987 contest in Brussels.
In Belgium there are two large regions that split the country: French speaking Wallonia and the Flandern, where Flemish is spoken. Along with this region split comes seperate broadcasters namely RTBF and VRT. The broadcasters take it in turns to participate in the song contest. This year VRT are looking after the proceedings.
Since the introduction of the Semi Final's Belgium has experienced some disappointments as they attempted to advance to the final. From the Kiev contest in 2005 to the Moscow show in 2009 and again from Dusseldorf 2011 to Baku 2012 they didn't manage to make it out of their respective semi finals.
On a much more positive note Belgium successfully made it to the final in Oslo 2010 with Tom Dice who sang Me and My Guitar which finished a very respectible 6th place. Further promise was shown last year when Roberto Bellarosa, who performed his entry Love Kills in last weeks 1st Eurosong Semi Final, made it to the Malmö Final and finished in 12th place.