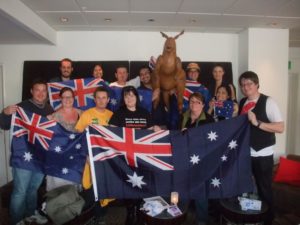 This year many Australian fans travelled to Oslo for the Eurovision Song Contest.  EuroVisionary went along to their fan meeting that they called Aus-lo!
There is a big interest in Australia for the Eurovision Song Contest where the show is broadcast on the SBS network.
Fans from all over Australia including Sydney, Melbourne, Darwin and Perth were here.  There were also Australian nationals living in Dubai and the Soloman Islands attending.
I was also told about an Australian couple who got married last year and made their honeymoon the Eurovision in Moscow.
It was very interesting to hear the stories from everyone about when they first became interested in Eurovision.  For some there were songs like Invincible from Carola in 2006, Verka Serduchka with Dancing Lasha Lambai from 2007 and Nocturne from Secret Garden in 1995. Another fan became interested after watching the Riverdance interval act in 1994.
Back home most of the fans hold parties on the Eurovision final night and have a food and drink theme from the hosting country.
The overall favourites with the fans for the 2010 contest were Lithuania, Cyprus, Israel, Azerbaijan and Belgium.  The SBS network will broadcast the 3 shows in Australia over the weekend of 28, 29, 30 May.
EuroVisionary would like to extend a warm welcome to all the Australian fans who attended this meeting.