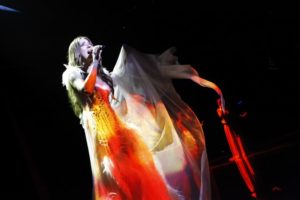 Sabina showed on her first rehearsal that music will never die and she performs really good on the stage.
Sabina Babayeva perfomed her first rehearsal on her home country. She seemed to be a little bit nervous at first but the most part of perfomance was excellent.
She was dressed in a white gorgeous dress full with sparkling diamonds but the special lights made such flashes on it that you would never guess what color was her outfit. Because of this effect she had to be standing still on the same place. Sabina's dress was yellow at the beginning and red in the middle of the
performance and it seemed she was burning on fire when the background
turned red.
She was joined by three female backing vocalist who were waving their white long dresses as well and the Azerbaijani mugham-singer Alim Gasimov who provided to the song the national mugham sound. 
The background screen was blue with white flashes.
Sabina vocals were great and the whole view was just fascinating. She was greeted with huge applause from the crowd watching when she finished her rehearsal.