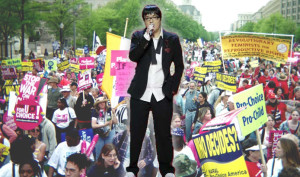 It has become quite a tradition that the previous winner who brought the contest to the country is opening the final. That will however not be possible this year, as Marija Serifovic will be performing at a charity event in Subotica.
Marija Serifovic confirms to Serbian news site, Naslovi.net that she unfortunately won't be able to open the 2008 Eurovision Song Contest as she will be present during the "Plašlo i Fos – festival" in Subotica, about 200 kilometers north of Belgrade and near the border with Hungary. The organisation behind the festival, of which Marija has been a member of for many years, runs several institutions where women can come and stay for a shorter or longer period if they need to.
Naslovi.net writes that Marija Serifovic's participation at the festival was planned already before she won the Contest in Helsinki and that Marija has not wanted to change those plans. Marija Serifovic: "I believe it is a matter of being fair, as I promised to perform here long time ago. Also, helping this organisation is more important for the world than the Eurovision Song Contest."
Several of last year's participants as well as various Serbian singers should already have offered to sing her winning song in the final. It is not yet known if we will get to hear Molitva performed by someone else than Marija Serifovic or if they will chose to use a video clip instead.
Links