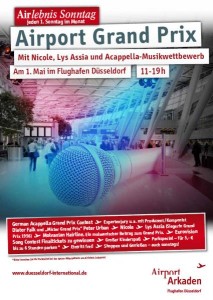 Three weeks before the Eurovision Song Contest the host city Düsseldorf is getting ready for the event. The stage of the Esprit Arena is nearly built up, Eurovision flags are waving in the city and the Düsseldorf International Airport is preparing another interesting event – the Airport Grand Prix.
On May 1st visitors of Germany's third biggest airport can watch the performances of twelve different formations who are participating in the first Airport Grand Prix. The A-Cappella competition will be held between 11:00 and 19:00 CET with free entrance.
Beside the participants who were determined by the Team German Acappella the spectators can watch guests like Lys Assia, Nicole, Peter Urban and Dieter Falk. Peter Urban has been the German TV commentator since 1997 while Dieter Falk is a German music producer and composer.
The winner of the Airport Grand Prix will be chosen by a jury who will give the points just like in the real Eurovision Song Contest  from 1 to 8, continuing with 10 and 12 points. Beside Peter Urban and Dieter Falk, the jury consists of three active and former members of German Acappella.
As a special act the Düsseldorf Eurovision anthem Tanzen (Der Rhythmus meiner Stadt / Dance – my city's beat) will be presented by the band Bilk together with all participants. This song is also produced by Dieter Falk and is regarded as the event's highlight.
More information about the participants can be found on the website of the Team German Acappella. There is also an online voting where you can win two tickets for the jury final of this year's Eurovision Song Contest.
Links