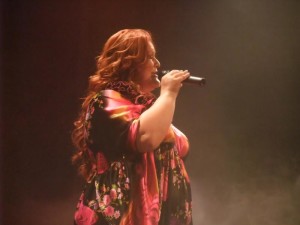 On Saturday 22 May 2010 many competing acts had parties to promote their songs in various destinations around Oslo.  Georgia, Poland and Greece with Cyprus held respective parties.
EuroVisionary were at the Georgia and Greece and Cyprus parties.
Georgia held a civic reception the Oslo Opera House.  This elegant building set the scene for a very sophisticated party.  There was a lot of ethnic Georgian dancing and Sofia Nizharadze performed several songs with her backing vocalists including the Alicia Keys song Falling and her Eurovision entry, Shine.
The Greece and Cyprus party was attended by many other singers and delegations including FYR Macedonia, Bosnia Herzegovina, Romania and Bulgaria.
After all this there was a special party at the Ballroom disco club.  Michael von der Heide for Switzerland performed 2 songs, Herra Björk for Iceland sang 3 songs including her song from the Danish selection in 2009, Someday, as well as her 2010 Eurovision, Je Ne Sais Quoi.  Malcolm Lincoln for Estonia also performed.  Alyosha from Ukraine gave a unique and outstanding interpretation of Nocturne, the winning song for Norway in 1995, as well as Sweet People.