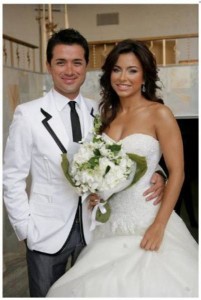 The former Ukrainian representative, Ani Lorak, married a Turkish man, Murat Nalçacıoğlu, in a Turkish ceremony in Antalya, Turkey. Ani Lorak was the runner up in the 2008 Eurovision Song Contest with Shady Lady.
Murat Nalçacıoğlu has been Ani Lorak's manager for years and the couple have been engaged since 2003. According to Ani Lorak's interview with Turkish journalists, they got engaged in Ukraine and decided to marry in Turkey. Ani also stated that she has been coming frequently to Antalya, famous for it's long beaches in Turkey, and this was the main reason to choose this city to marry in.
About two hundred people attended the huge ceremony and the happy couple remained in Antalya for their honeymoon.
At the end of the night Ani stated "I am also planning to move to Antalya with my husband. We are planning to continue to the rest of our lives here".
You can also view the photos of the ceremony by clicking here.
Links