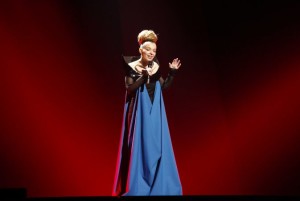 The annual Barbara Dex award, which goes to the worst dressed performer in the Eurovision Song Contest, has been won by Albanias Rona Nishliu. The Irish twins Jedward came second while the overall winner Sweden's Loreen was 8th worst dressed.
In the final of the newly held 2012 Eurovision Song Contest home-girl Sabine stood out in a fabulous dress that might give her the price for dress of the year – and certainly keep her far away from the Barbara Dex award.
The Barbara Dex award is named after the Belgian participant from 1993. That year she had made her dress herself and many didn't share her taste in clothes. Since 1997 this unofficial award has been given to the worst dressed act.
The top 10 for 2012 for worst dressed act in the contest:
1. Albania – Rona Nishliu
2. Ireland – Jedward
3. Bulgaria – Sofi Marinova
4. The Netherlands – Joan Franka
5. Ukraine – Gaitana
6. Denmark – Soluna Samay
7. Tyrkey – Can Bonomo
8. Sweden – Loreen
Shared 9. Bosnia & Herzegovina – Maya Sar
Shared 9. San Marino – Valentina Monetta 
Below you can the Rona Nishliu performing her 2012 Eurovision Song Contest entry  – in 3D, which can easily be turned off and watch in regular 2D if you haven't yet gotten hold of a pair of 3D glasses.