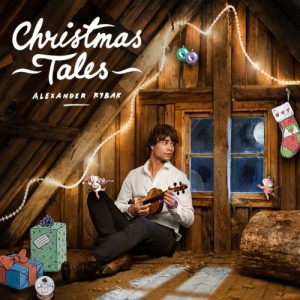 The 2009 Eurovision Song Contest winner Alexander Rybak releases his Christmas album today. The album contains 12 classic Christmas songs, all in English, and is likely to put his fans into the right spirit leading up to the big holiday in just one month.
Alexander Rybak, now 26 years old, won the Eurovision Song Contest in 2009 quite convincingly with Fairytale. Since then we has been extremely active releasing an album every year. His first two albums were all in English, while the last one titled Resan Till Dig was in Norwegian. With Christmas Tales, which hit the stores today, he returns to the English language. 
The album will be well complimented by the fact that he will be doing a series of Christmas concerts in Churches around Norway. The tour is called "Stille Natt Hellige Natt" (Silent night, holy night), which refers to a well known Christmas carol. As a part of this show is also Rune Larsen, Tor Endresen (Eurovision Song Contest 1997), Marian Aas Hansen and Elisabeth Andreassen (Eurovision Song Contest 1982, 1985, 1994 and 1996).
Read more about the Still Natt Hellige Natt tour in our previous article.
Track list for Alexander Rybak – Christmas Tales:
1. The Christmas Song
2. Winter Wonderland
3. Let It Snow
4. Have Yourself A Merry Little Christmas
5. Tell Me When
6. Santa Claus Is Coming To Town
7. Baby It's Cold Outside
8. Rudolph The Red-nosed Reindeer
9. Presents
10. Silver Bells
11. I'll Be Home For Christmas
12. Silent Night