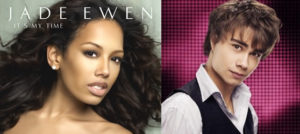 It is not common that a Eurovision Song Contest winner makes it to the UK chart – or that their own participant does. Both Alexander Rybak and Jade Ewen made it – together with the official album with all 42 participating songs.
Alexander Rybak entered the UK single top40 on a 10th position, which is the highest any Eurovision Song Contest winner has achieved there since 1997 where the United Kingdom won the Contest with Katrina and the waves. It is also mentioned to be the best from a non British winner since Johnny Logan's Hold Me Now from 1987 and as such Fairytale has become a hit in the UK.
UK's own Jade Ewen, who sang Andrew Lloyd Webber and Diane Warren's It's My Time to a fifth place in Moscow has just been released in the home country and is new as #27. Iceland's Yohanna has entered at #49 and is as such just outside the top40 published on BBC's website.
The official album with all 42 participating songs has entered as #22 on the top40 for compilation albums.