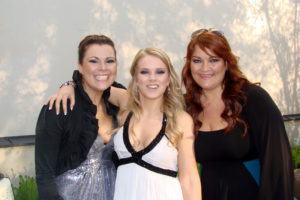 At a reception held at the Icelandic embassy in Moscow special invited guests were treated with Icelandic seafood and vodka mixed with lots of performances from Yohanna as well as from her three backing singers Hera Björk, Friðrik Ómar and Erna Hronn.
EuroVisionary was present we'll be sharing this fantastic evening in a bunch of videos. Below you can find:
– A medley including: Gleðibankinn (Iceland 1986), Tell me (Iceland 2000), Waterloo (Sweden 1974), Never ever let you go (Denmark 2001), Ooh aah….just a little bit (United Kingdom 1996) and This is my life (Iceland 2008).
– Yohanna performing Is it true? In Russia with help from the backing singers
– Hera Björk performs Someday. She came second at the Danish final this year with that song.
– Erna Hronn performs My Number One which Helena Paparizou won the Eurovision Song Contest with in 2005.
– Yohanna performing her 2009 Eurovision Song Contest entry Is it true? in that English version we'll see in the first semi-final on the 12th of May.