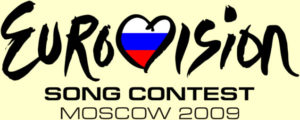 It has taken a while for the final list of participants for the 2009 Eurovision Song Contest to be officially announced due to several countries talking about not participating. San Marino is out – and Slovakia in.
The final list of participants is normally ready a lot sooner, but this year has been quite an exceptional one with several countries seriously considering not participating in Moscow. Georgia changed its mind after having said no due to the conflict between Russia and themselves. Estonia and Lithuania also aired the idea of taking part due to the Contest being held in Moscow, but both countries were never really too serious about it. Their neighbour Latvia also first said no to participation, officially due to financial reasons. But at the very last moment they changed their mind.
San Marino who had their Eurovision Song Contest debut in Belgrade is, however, not returning for a second attempt. They didn't qualify for the final and the withdrawal is therefore most like to be found in the unsatisfying result. As they were the closest we got to having Italy back this is sure to disappoint many fans.
Slovakia is back after an absence of ten years, they last participated at the 1998 Eurovision Song Contest. They have never achieved better than a 19th out of 25 participants and as such it will be interesting to see where they will settle in a competition that has changed over the past ten years – and will change even more with the juries' return in the 2009 Eurovision Song Contest.

The final list of participating countries:
Albania
Andorra
Armenia
Azerbaijan
Belarus
Belgium
Bosnia & Herzegovina
Bulgaria
Croatia
Cyprus
Czech Republic
Denmark
Estonia
Finland
France
FYR Macedonia
Georgia
Germany
Greece
Hungary
Iceland
Ireland
Israel
Lithuania
Latvia
Malta
Moldova
Montenegro
The Netherlands
Norway
Poland
Portugal
Romania
Russia
Serbia
Slovenia
Slovakia
Spain
Sweden
Switzerland
Turkey
Ukraine
United Kingdom