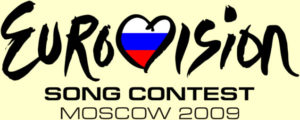 After the Swedish Melodifestivalen and the song presentation in the Czech Republic, we have just begun the countdown to the Eurovision Song Contest which will be held in Moscow this year. While we are deciding our favourites in this year's competition, tomorrow is the submitting deadline of the official preview videos.
There are just about 58 days left to the first semifinal of the Eurovision Song Contest in the Olympiski Sport Center, Moscow. Now we are sure that forty-two countries are participating this year after the Georgian withdrawl, and tomorrow is the deadline of the preview videos to be submitted for the participant countries. 
It seems some of the countries such as Norway and Sweden have decided to use their national selection video records as their preview videos. On the other side, some countries such as Bulgaria and Spain have decided to use an older album video, and the rest have made new videos. 
We would like to share with you the complete list of the participiants' songs:
| | | |
| --- | --- | --- |
|  Country |  Participiant |  Song |
|  Andorra |  Susanna Georgi |  La Teva Decisió (Get A Life) |
|  Armenia |  Inga & Anush |  Nor Par (Jan Jan) |
|  Albania |  Kejsi Tola |  Carry Me In Your Dreams |
|  Azerbaijan |  Aysel & Arash |  Always |
|  Belarus |  Petr Elfimov |  The Eyes That Never Lie |
|  Belgium |  Patrick Ouchéne |  Copycat |
|  Bosnia & Herzegovina |  Regina |  Bistra Voda |
|  Bulgaria |  Krassimir Avramov |  Illusion |
|  Croatia |  Igor Cukrov & Andrea |  Lijepa Tena |
|  Cyprus |  Christina Mexata |  Firefly |
|  Czech Republic |  Gipsy.cz |  Aven Romale |
|  Denmark |  Brinck |  Believe |
|  Estonia |  Urban Trad |  Rändajad |
|  Finland |  Waldo's People |  Loose Control |
|  France |  Patricia Kaas |  Et S'il Fallait le Faire |
|  Germany |  Alex Sings, Oscar Swings |  Miss Kiss Kiss Bang |
|  Greece |  Sakis Rouvas |  This Is Our Night |
|  Hungary |  Àdok Zoli |  Dance With Me |
|  Iceland |  Jóhanna Guðrún Jónsdóttir |  Is It True |
|  Ireland |  Sinéad Mulvey & Black Daisy |  Et Cetera |
|  Israel |  Noa & Mira Awad |  There Must Be Another Way |
|  Latvia |  Intars Buluis |  Probka |
|  Lithuania |  Sasha Son |  Love |
|  F.Y.R. of Macedonia |  Next Time |  Nesto Sto Kje Ostane |
|  Malta |  Chiara |  What If We |
|  Moldova |  Nelly Ciobanu |  Hora Din Moldova |
|  Montenegro |  Andrea Demirovic |  Just Get Out of My Life |
|  Netherlands |  De Toppers |  Shine |
|  Norway |  Alexander Rybak |  Fairytale |
|  Poland |  Lidia Kopania |  I Don't Wanna Leave |
|  Portugal |  Flor de Lis |  Todas As Ruas Do Amor |
|  Romania |  Elena Gheorgi |  The Balkan Girls |
|  Russia |  Anastasia Prikhodko |  Mamo |
|  Serbia |  Marko Kon & Milan Nikoliç |  Cipela |
|  Slovakia |  Let' Tmou |  Kamil & Nela |
|  Slovenia |  Quartissimo |  Love Sympony |
|  Spain |  Soraya |  La Noche Es Para Mi |
|  Switzerland |  Lovebugs |  The Highest Heights |
|  Sweden |  Malena Ernmann |  Le Voix |
|  Turkey |  Hadise |  Düm Tek Tek |
|  Ukraine |  Svetlana Loboda |  Be My Valentine |
|  United Kingdom |  Jade |  My Time |