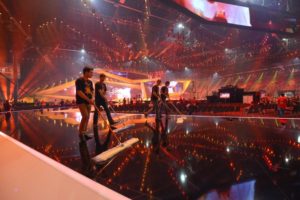 Today is the main day for all Eurovision Song Contest fans. The last rehearsal in Crystal Hall today has just finished. Here is the latest news about how all the participants felt with the impression and atmosphere on the stage. Check out how it was went and what the predictions are for this year.
To help you get the best prospective EuroVisionary will be covering the three dress rehearsals for the final by three different writers with each of their views on what they see.
Note: They were having some problems deciding on the best way to avoid people from filming the screen here in the press centre. Unfortunately they decided to use this dress rehearsal on trying out various settings causing us not to see the screen and other times not to have any sound. Those things are referred to as technical problems below.
01. United Kingdom: Engelbert Humperdinck – Love Will Set You Free
Love will set you free promises the Hump on the last rehearsal. But it seems that he is a bit old to carry out such promises but too experinced to make us all believe in it. He looks extremely tired and needs to save his energy for the live final. His ballad is too perfect for some young participants and a bit wick in comparison with other good vocal participants as well. 
02. Hungary: Compact Disco – Sound Of Our Hearts
They sing about the sound of their hearts but I can only hear the sound of his doubt about being in the top 10. Compact Disco are trying to do their best but have no chance to have one of the best perfomances. Pop-rock music this time on rehearsal sounds too noisy, I hope that during the live final people will hear the sound of Compact Disco's heart.
03. Albania: Rona Nishliu – Suus
Incredible perfomance, great vocals. She is a great actress as well. When she sings, everybody on the stage was mesmerized and their was silence. The hair around her neck when she perfoms even on rehearsals makes such impression that it is a snake that smothers her. Her deep song makes us all tremble and even remember the tragic bus accident that happened in Albania this week.  Her melodramic perfomance and a little bit extra emotional song will take her to the top 10. 
04. Lithuania: Donny Montell – Love Is Blind 
Love isn't blind unless you are so young and handsome as Donny. It is in his hands to attract girls and let them to be blind in his honour. The black outfit and his black ribbon with diamonds on it works good for him. The love ballad and declaring that love is blind makes him too naive in front of other experienced and strong participants.
05. Bosnia & Herzegovina: Maya Sar – Korake Ti Znam
The mixture of piano and some seconds of oriental music with good vocals by Maya makes her perfect to be in final. If she is strong enough for it we can see by todays rehearsal. She is the same; nothing has been changed to her casual outfit. She is nice wihout any doubts but not a strong participant for sure. 
06. Russia: Buranovskiye Babushki – Party For Everybody
Grannies want to make a party for everybody. Are they sure that they can afford it being so old? Yes, everybody loves them. Even if they come on the stage not singing, everybody will be applausing them. They give the pastries to all and hint that if they win they will share with all who come to Russia. They want to make a party for everybody or maybe they are just cute and funny grannies who will make the people partying for 3 minutes. But should we take their perfomance seriously and expect a good result of them? That's hazy but they will be probably be in the top 10.
07. Iceland: Greta Salóme & Jónsi – Never Forget 
The chemistry and Greta's violin playing on the stage makes this a great love ballad performance. The last rehearsal seems that they are more than ready for the final and will do their best to be in the top 10. Dramtic melodie in the song and the fast stream of the music makes you mesmerized by the whole show. We will never forget their great perfomance and hope to see them well perfomed just like todays rehearsal.
08. Cyprus: Ivi Adamou – La La Love
Ivi is in love with her la la love everytime when she is on the stage. Even when she is in casual outfit she charms everyone in the Crystal Hall with 4 girls dancing around. This is a catchy song which has similarity with the rhythm of other songs. The dancing perfomance plays a good role for La la love. Even if she isn't a strong participant she has one of the most attractive shows on the stage. 
09. France: Anggun – Echo (You And I) 
Well known singer Anggun feels confident on the stage. In a transparant flashy outfit she looks like a butterfly among topless acrobatics. The whole perfomance is a little bit tricky and the meaning of the song is messy. Maybe that was the main idea to make us listen just to her voice. Sincerely I don't want to look at all the mess what's going on the stage just to listen to her good vocals. Even if she is among 5-th and one of the best she is expected to be top 5 in grand final. 
10. Italy: Nina Zilli – L'Amore È Femmina (Out Of Love)
That is her: extravagant Nina shaking her hips in flashy dress and background singers are in casual outfits. Her voice is always the same sweet with great Italian accent. She will be in top 5 for sure. She is very attractive, good voice and looks amazing on the stage. The manner she sings makes the music to be not so important just the pleasure to hear her voice again and again. 
11. Estonia: Ott Lepland – Kuula 
"Kuula"- Listen to me sings Ott. So we do listen to Ott and his soft ballad song. This time he looks very tired. But the music is very melodical and he has great vocals. The song is catchy and emotive at the same time. Today in rehearsals, Ott is in a casual outfit preparing for the live final show to perform his best there. Emotional ballads had great impressions on journalists in the reharsal. Even if it looks like that he is tired but still this music is one of the best songs and makes you tremble even if you don't understand the lyrics. 
12. Norway: Tooji – Stay 
That disco music is the best song for clubbing people. Tooji looks confident and perfoms even better than on the second semi final when his song was selected. A little bit of oriental music as he is a half Iranian plays a catchy sensual mixture for the show. All the dancers on the stage seem to be lazy as if trying not so much because it's not the main show. Tooji wants to stay and perform great tonight in Crystal Hall but will he stay and be in top 5?
13. Azerbaijan: Sabina Babayeva – When The Music Dies 
Yes… This is the diva which seems to be tired and by hairstyle its obvious that she will look brilliant tonight. Alim Gasimov sings perfectly national Azerbaijani music. This time Sabina looks very warm even if she sings that you are cold. The flashes on her dress plays great art. Alim Gasimov's voice makes great impressure for this whole perfomance. Sabina seems to try not so hard on the last rehearsal but still performs perfectly as if like the music will never die for her. This is a good mixture with fabulous national melodies, a talented singer and blend of art on her dress and mugam legend Alim Gasimov.
14. Romania: Mandinga – Zaleilah
Just the trumpet man seems to be ready for tonight's perfomance on the show. Others looks like just having fun by being on the stage again and Elena in a pink outfit looks happy with a new catchy summer hit which probably could be in top 10. This melody can stick in your mind for a while but it's not going to be there for long time.  
15. Denmark: Soluna Samay – Should've Known Better
Denmark on the stage looks more like some guys after school chilling out somewhere downtown. Soluna isn't going to try much for the rehearsal and she seems to be happy with her perfomance. But her show on the stage wants me to wish to know she especially better perfoman well in the final. 
16. Greece: Eleftheria Eleftheriou – Aphrodisiac
This is charming, a Greek girl looking great even if she isn't in her main outfit just in casual blouse and shorts. The catchy music and her good looks even without make up doesn't make her sing so well because everybody especially the male audience applause for her loudly everytime. The song has similarities with summer hits as have some participants. It is hot but not an extraordinary performance for Greece.
17. Sweden: Loreen – Euphoria
Everything in your hands when you have euphoria in your mind. This is the most popular song and by many predictions she might win. On the last rehearsal Loreen seems to be very tired with Euphoria. But sings very well even if there is plenty of time till the live final. Sometimes she was singing out of tune and time. It seems like eveybody who supports Loreen are in a big euphoria and that can make her be in the top 3. Everybody raptured in applause when she sung on the stage.
18. Turkey: Can Bonomo – Love Me Back
All of Azerbaijan loves you back Can. But it seems that you have very plain lyrics in your song but catchy oriental music. Very good perfomance on the stage as well. Can is very lucky that his perfomance takes place in Baku where everybody adores him. This sweet guy who composed this song himself is in love with himself and it seems like he saved all his energy for tonight's perfomance. We wish that his titanic ship won't sink tonight.
19. Spain: Pastora Soler – Quédate Conmigo (Stay With Me)
The lonely woman in white dress prays you to stay with her and she will share all she has in her entire life. She looks sophisticated, classic and very professional at the same time on the stage. That is great, vocals are the only thing she has to be relaxed and self confidence if she wants to win. This is one of the best songs and probably she will be in the top 5 if her perfomance tonight is as good as today's rehearsal.
20. Germany: Roman Lob – Standing Still
Don't stand still if you want to win. Ordinary and young guy as well, tries to find his way and stands still even when you leave him because he is in the Crystal Hall and he doesn't need to go anywhere. He really wants to win but his rehearsal is too boring for it. We will check it out which place he takes probably in top 10 if he isn't going to stand still on the stage but will do his best. 
21. Malta: Kurt Calleja – This Is The night
This is the night but it's not visible by Kurt's perfomance. It's obvious that it is just rehearsal even if the last one. All the crew on the stage are waiting for the live final tonight and are going to show a great perfomance. He has a good vocal as well and tries to perform it. Thats going to be the best night for Kurt as well. This is going to be catchy dancing music from Malta on the Baku stage.
22. F.Y.R. Macedonia: Kaliopi – Crno I Belo
Even if the song is sad, Kaliopi has a great sense of humour. This time she is in good make up and nice outfit as well. For her live final is very close, she has a soft melodical, a little bit of a drama ballad in her song and a very good voice at the same time. The band makes all the perfomance unforgettable. This participant might be in the top 10. She has everything for her performance to be one of the best.
23. Ireland: Jedward – Waterline 
These two boys made a big mess at the press conference as well as everytime try to make their perfomance extraordinary. Well they are too close to the waterline final. Their voices are not so strong today in the rehearsal, maybe they eat too much ice cream walking aroung Baku and having fun everywhere. But they are still favorires and we have to admit that they both are very catchy and attractive as well. Jedward can take top 5 by being even faster and very close to waterline as well. 
24. Serbia: Željko Joksimović – Nije Ljubav Stvar
One of my favorite and beautiful songs with an outstanding melody and singer as well. Zeljko's deep and thoughtful voice makes you tremble as he sings. This time in the rehearsal he is in a plain outfit but that plays a minor role in comparison with the strong musical perfomance on the stage with the girl playing violin. He is one of the best participants this year and will have a good result for sure. Top 5, I predict.
25. Ukraine: Gaitana – Be My Guest
You want me to be you guest? Well I need too much for coming to your country. She is very simple in this perfomance even singing sometimes out of tune. She might be saving her best perfomance and voice as well for the live final but for the moment I don't want to be your guest. But you can change my mind tonight.
26. Moldova: Pasha Parfeny – Lăutar
Pasha makes everybody dance trying to seduce his prince and take her to lautar. That is the hint fromthe show that we haven't seen before as Pasha sings in a big tease that might take him to top 10. Dancing girls not in their final outfit as well as Pasha seems to be tired, trying to make that princess be his girl. We will have to wait and see his final position.
I believe the winner will be among these 5: Italy, Sweden, Spain, Serbia and Albania.
EuroVisionary is recording 2D as well as 3D videos from this dress rehearsal. Subscribe to our YouTube channel to be kept updated.
This article is based on the writers experience of the dress rehesarsal and does not neccessarily express the opinion of EuroVisionary.com