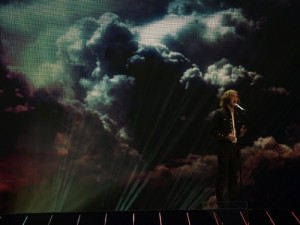 The 2nd Dress Rehearsal for the final of the 2011 Eurovision Song Contest took place this evening.  The jury will be voting on the show tonight.  It was also another opportunity for participants and technical aspects to be perfected for the final tomorrow night at 21:00 CET.
Note: The opinion expressed in this article are those of the author and are not necessarily the one of EuroVisionary.com 
Here are some thoughts about tonight's performances.
1. Finland – Paradise Oskar – Da Da Dam
A sinple but effective performance by Paradise Oskar.  Good use of the screens with the earth in background.  Very well done but I find my mind drifting when watching this.
2. Bosnia-Herzegovina – Dino Merlin – Love in Rewind

A colourful show by Dino and the Bosnian team.  This catchy song with Balkan influences should appeal to wide audience.

3. Denmark – A Friend in London – New Tomorrow
An excellent performance of this anthemic song.  The audience love this and this will do very well for Denmark.
4. Lithuania – Evelina Sasenko – C'est Ma Vie
Evelina gives a classy performance of this lovely ballad.  The song has a big 'west end show' feeling.  This might also capture a lot of jury votes.
5. Hungary – Kati Wolf – What About My Dreams?
The first real upbeat song of the evening.  Kati gives a solid show with her dancers.  This could easily be a hit on the radios and dancefloors around Europe. Great performance.
6. Ireland – Jedward – Lipstick
Jedward have some much energy.  They put everything in to this catchy upbeat song.  The stage is very colourful with a red background and images of the twins dancing. A dark horse.
7. Sweden –  Eric Saade – Popular
Eric gives a big show for this very catchy dance song.  The dance routine and vocals are very good.  This will get the audience rocking in the main show  tomorrow evening. Another big contender.
8. Estonia – Getter Jaani – Rockefeller Street
An entertaining performance from the bubbly Getter.  Lots of dancing and cute tricks on stage.  This should do well for Estonia.
9. Greece – Loucas Yiorkas feat. Stereo Mike – Watch My Dance

I like the Greek singing by Loucas but I do not think the rap works with this. It looks good on stage but Greece might not do very well this year.
10. Russia – Alexej Vorobjov – Get You

Alexej is full of energy.  A big and lively performance by him and his dancers.  Should be top 10 for Russia.
11. France – Amaury Vassili – Sognu
The big pre contest favourite.  This heart warming and emotional operatic song gives you goosebumps.  It sounds like a national anthem.  The stage lighting is also very effective. France will be right up there and have their best chance for many years of winning Eurovision.
12. Italy – Raphael Gualazzi – Madness of Love
Great to have Italy back.  Raphael is very professional but for me this song does not quite fit in to the show.  It will be interesting to see if the voting public can take to this too.
13. Switzerland – Anna Rossinelli – In Love for a While
Anna does very well.  Her vocals are good and the stage lighting is very nice.  Nice to see Anna and Switzerland doing well with this simple and lovely song.
14. United Kingdom – Blue – I Can
Blue are back! Big anthemic performance from the boys.  The audience really liked this one.  A feel good song.  United Kingdom will also challenge the top positions.
15. Moldova – Zdob si Zdub – So Lucky
This is a very bright stage show.  Rock song with ethnic elements.  For me the girl on the one wheeled bicycle wins me over with her performance.
16. Germany – Lena – Taken by a Stranger
Lena is back and defending her title.  The home audience love this (as expected).  A 'darker' performance than Satellite.  I do not see Germany winning this year but Lena should secure a top 10 placing.
17. Romania – Hotel FM – Change
A very happy and catchy show from Hotel FM. The lead singer, David Bryan, has a personality that is radiated to the watching audience and viewers at home.
18. Austria – Nadine Beiler – The Secret is Love
Nadine pulls out another big vocal performance.  She charms the audience with this lovely ballad.
19. Azerbaijan – Ell & Nikki – Running Scared
Ell & Nikki have a very strong song.  They complement each other on stage.  The lighting is very nice with this performance too.  This will do very well for Azerbaijan.
20. Slovenia – Maja Keuc – No One
Maja has a really strong voice and is backed perfectly by her 4 girl backing vocalists. This has some Balkan and pop overtones.  Good performance. 
21. Iceland – Sjonni's Friends – Coming Home
This is a happy and sing-a-long show from Sjonni's Friends.  The audience loves this performance too.  Iceland will be a strong contender tomorrow.
22. Spain – Lucia Perez – Que Me Quiten Lo Bailao
This is such a happy song and performance by Lucia and her team.  A carnival atmosphere is on the stage.  This is transmitted to the audienc with good applause.
23. Ukraine – Mika Newton – Angel
Mika gives an outstanding vocal performance.  She looks very pretty and elegant on stage.  She is joined by sand artist, Kseniya Simonova.  This looks very good on screen
.
24. Serbia – Nina – Caroban
Nina gives a marvellous performance on stage with her 3 female backing vocalists. The background and lighting are perfect. This is such a happy song and make everyone feel good. I love it.
25. Georgia – Eldrine – One More Day
Eldrine close the performances with a strong 'rock out' show.  This can be compared to the rock band, Evanescence.  Strong song and performance.  This should do well for Georgia.
In my opinion one of the following 5 countries should take the Eurovision crown tomorrow evening – France, United Kingdom, Iceland, Sweden or Azerbaijan.