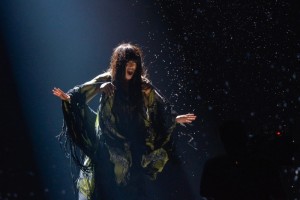 Tomorrow we see who are the next 10 countries to qualify for Saturday's final of the Eurovision Song Contest.  Here we go with the second full dress rehearsal for semi final 2.  
To help you get the best prospective EuroVisionary will be covering the three dress rehearsals by three different writers with each their views on what they see. 
1. Serbia: Željko Joksimović – Nije Ljubav Stvar
Željko is a fine and accomplished performer and he is fondly remembered in Eurovision.  This is a beautiful song with a lot of emotion.  A classic performance and this will sail through to the final. 
2.  F.Y.R. Macedonia: Kaliopi – Crno I Belo
Another first class performer and very well known in the Balkans and other countries.  Another strong and powerful performance and she looks comfortable on stage.  This should also make it to the final.
3. The Netherlands: Joan Franka – You And Me
Joan again takes to the stage with her Red Indian feathers.  This is a fan favourite.  Personally I do not see the attraction in this song.  She performs the song well and it has a simple melody but is this enough to carry the Netherlands to the final? 
4.  Malta: Kurt Calleja – This Is The Night
Will this be the year that Malta can make the final again? Kurt gives a polished performance of this upbeat pop song on stage and maybe this might be Malta's chance to progress.
5. Belarus: Litesound – We Are The Heroes
Litesound deliver a fine performance of this upbeat pop/rock song.  They are dressed as bikers and make good use of the stage.  Belarus could have their 'heroes' waiting and make it to the final.
6. Portugal: Filipa Sousa – Vida Minha
Filipa brings a touch of fado to the stage.  Filipa is charming and gives a first class performance but I do not think the song has enough strength to make it to the final.
7. Ukraine: Gaitana – Be My Guest
Gaitana brings an anthem to the stage.  This song will also be featured in the forthcoming European Football Championships in Poland and Ukraine.  The performance is very good and the stage lighting is very effective. This should also make it to the final. 
8.  Bulgaria: Sofi Marinova – Love Unlimited
Sofi is alone on stage and delivers fine vocal show.  The song has the feel of Romania's Inna style and could easily be a big summer dance hit.   The stage looks amazing and the fireworks are very effective. I would love this to qualify but I am not sure if the rest of Europe will vote for this. 
9.  Slovenia: Eva Boto – Verjamem
Eva is 16 years old and for her tender years she has a beautiful voice and appears very confident on stage.  Her all female backing vocalists do a great job too.  The same team behind the 2007 Serbian winner wrote this and this should have no problem making it to the final. 
10. Croatia: Nina Badrić – Nebo
Nina is an experienced and very good singer.  Somehow this song never quite gets going.  I do not see this strong enough to make it to the final. 
11. Sweden: Loreen – Euphoria
Here we go with the big fan favourite.  A strong performance with great vocals by Loreen.  There is great use of the lighting on stage too.  There is a good feeling for Sweden this year.  For sure this will go the final.
12. Georgia: Anri Jokhadze – I'm A Joker
This song has definitely polised a lot since being first selected from the Georgian national selection.  There is a lot going on stage and Anri's vocals are very good. The female backing vocalists provide a good show too. This should go the final. 
13. Turkey: Can Bonomo – Love Me Back  
It was a big shock to many when Turkey failed to qualify in 2011.  Well I am not sure this is strong enough either to make it to the final.  There is no problem with the performance and the lighting is quite effective but something is lacking here. 
14. Estonia: Ott Lepland – Kuula
A lovely and gentle ballad by Ott.  Everything is quite simple on stage, he is joined by a female vocalist only, but there is no need for anything else.  The song should appeal to a wide range of viewers and should make it to the final without too many problems.
15. Slovakia: Max Jason Mai – Don't Close Your Eyes 
Well if anyone might be falling asleep this one will certainly wake you up.  Max and the band give a big performance of  this heavy rock song.  I do not see enough viewers voting for this to make it to the final. 
16. Norway: Tooji – Stay 
This will remind viewers of Eric Saade from Sweden in 2011.  A catchy upbeat dance song by Tooji.  A few vocal problems this evening but the energy and performance on stage should carry Norway to the final.
17. Bosnia & Herzegovina: Maya Sar – Korake Ti Znam
A gentle ballad from Maya.  She begins the song sitting at the piano and during the instrumental break she walks to the stage.  Nice performance but possibly not enough.  Maybe not all the ex Yugoslav countries will make it to the final.  Bosnia & Herzegovina maybe the unlucky ones this time. 
18. Lithuania: Donny Montell – Love Is Blind  
This is actually two really good songs in one.  It begins as a ballad and Donny is blindfolded.  Then the song becomes a really nice uptempo dance song.  But by the time the uptempo part is going well it is all over too quick. This may blight then chance for Lithuania to qualify.
The 10 songs that I think will make it to the final could be: Serbia, F.Y.R. Macedonia, Belarus, Ukraine, Malta, Slovenia, Sweden, Georgia, Estonia, Norway 
This article is based on the writers experience of the dress rehesarsal and does not nessasairly express the opinion of EuroVisionary.com.