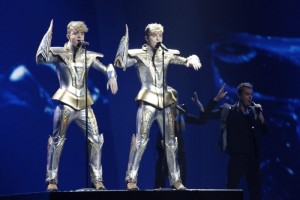 All 18 countries from the first semi final took to the stage for the second full dress rehearsal in the Crystal Hall arena in Baku.  The show began at 12:00 midnight local time in Azerbaijan.  So, what 10 countries will make it to the grand final on Saturday night?
To give you a perspective EuroVisionary will be covering all three rehearsals by three different writers with their respective views on what they see.
So, let's take a look at the second dress rehearsal:
1. Montenegro: Rambo Amadeus Euro Neuro
Well certainly an unusual and bizarre beginning to semi final one.  I am not sure this will appeal to all tastes.   There is lots of movement and strange behaviour on the stage.  We have a wooden donkey too.  I suppose there is some sort of humour here and some people may laugh.  It would be a major surprise if this makes it to the final.
2. Iceland: Greta Salóme & Jónsi Never Forget 
A complete contrast to the opening song.  Both singers perform very well and take centre stage.  This strong ballad will surely appeal to many viewers.  There are four backing singers on stage.  The stage lighting is also very effective with mountains in the background too.  This should make it to the final.
3. Greece: Eleftheria Eleftheriou – Aphrodisiac
Now it is time to party with Greece.  The song follows a successful Greek style and formula.  But it definitely works.  Eleftheria gives a fine performance and the to this upbeat and catchy song.  We all feel like taking our holidays to Greece after this.  In my opinion Greece will go the final.
4. Latvia: Anmary – Beautiful Song
Anmary is dressed in blue and joined four female backing vocalists.  The song begins as if they all chatting on stage and Anmary states her story.  When I first heard this song I was not sure but it gradually grows on you. The stage performance is very good and the stage is colourful.
5.  Albania: Rona Nishliu – Suus
A very emotive performance from Rona.  She is alone on stage but you can feel the passion in her voice as she reveals the story of the song.  I am not sure though if viewers for the first time will appreciate the song on first hearing.
6. Romania: Mandinga – Zaleilah
Now the stage is alive with the happy sound from Romania.  Mandinga give a really lively and happy feel good performance.  We all want to party.  We even have bagpipes on stage.  Male viewers will also appreciate the good looking female vocalist, Elena.  This song will safely make it to the final.
7. Switzerland: Sinplus – Unbreakable
Now we have some rock/pop from Sinplus.  The stage looks good and the band perform very well.  I am not sure if the song will appeal to older viewers but you can still feel a lot of energy from the performance. 
8. Belgium: Iris – Would You?
A gentle ballad now.  Iris is 16 years old and looks good on stage and delivers a fine performance.  She is alone on the stage.  She has a great charisma.  We will see if viewers will vote for this love song.  I think they might well do.
9.  Finland: Pernilla – När Jag Blundar
Pernilla is wearing a green dress.  She gives a good performance and she sings in the Swedish language.  The song is gentle but I don't think Europe will be voting for Finland this year.   Sorry Pernilla and Finland.
10. Israel: Izabo – Time
The tempo moves upbeat again with this 70's type sound from Izabo.  It is a very happy song and they give a real show on stage.  Viewers should remember and like this performance.
11. San Marino: Valentina Monetta – The Social Network Song (Oh Oh – Uh – Oh Oh)
Now San Marino put a smile on our faces with this charming performance.  Valentina and her backing vocalists look great on stage.  Valentina is wearing blue jacket and trousers.  A lot of people do not rate this song but in my opinion it has a certain charm and theme of social network chatting may appeal to younger viewers.
12. Cyprus: Ivi Adamou – La La Love
It is party time again and Cyprus do not disappoint.  Ivy is wearing a shorf dress and gives a great performance. We all feel good and this could easily be a big summer hit.  It is a very popular song and Ivy should make it to the final. 
13.  Denmark: Soluna Samay – Should've Known Better
A simple but effective performance by Soluna.  The song has some charm and she looks good on stage again wearing a hat and playing her guitar.  This should go to the final too.
14.  Russia:  Buranovskiye Babushki – Party For Everybody
More partying and this time with the grand mothers from Russia.  We have an oven on stage and one of ladies is baking.  After a folk song introduction the song bursts in to an uptempo dance song.  A charming performance and Russia will go to the final for sure.
15. Hungary: Compact Disco – Sound Of Our Hearts
A little 80s type electro pop from Compact Disco.  Very good vocals from the lead singer.  I like it and this has a retro feel but are Europe ready for this? I think so.
16.  Austria: Trackshittaz – Woki Mit Deim Popo
Now we have some rap from Austria.  There is a lot of energy on stage and a lot happening.  There enthusiasm will come over on tv and youger viewers will appreciate this more than older audience.  
17. Moldova: Pasha Parfeny – Lăutar
It is show time.  Pasha gives a colourful and top performance with his dancers.  They use the stage very well and the lighting and colours look very good. This is another feel good song.  I tip Moldova to make it to the final.
18. Ireland: Jedward – Waterline
Jedward are back with I think a better song than last year.  They are still just as crazy and are dressed in silver space type suits.  We have a fountain on stage and there is a lot running around and craziness.  Jedward should make it to the final once again.  
In my opinion the 10 songs for the final are:
Romania, Russia, Ireland, Cyprus, Greece, Denmark, Moldova, Iceland, Hungary, Belgium 
This article is based on the writers experience of the dress rehesarsal and does not nessasairly express the opinion of EuroVisionary.com.