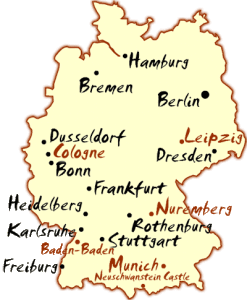 I arrived back home in Denmark last evening and it is now time to reflect over what happened the past two weeks. Which things did the host country Norway organise very well and which things can be made better? After such a big event as a Eurovision Song Contest is an evaluation is always needed.
The result of the Eurovision Song Contest will always be discussed and people will never agree. We all had each our favourites and it is only natural that some of us are happy while others are feeling a bit down. Personally I am quite pleased with Germany winning. This was what I had expected before leaving for Oslo. I am not the biggest fan of the song, but it could have been worse. Stories about Azerbaijan having bought a victory with their enormous advertising budget turned out not to be the case. Yes, they have probably spent more than anyone else on promotion, but it didn't gave them a victory. The TV viewers showed that they don't care about these things and that in itself is a big plus for the Contest.
I know I should be thrilled about the Danish fourth position and in a couple of days I probably also will. The voting is still however so fresh in mind that it can't be right now. We started out with 12 points from Romania and then another 12 points from Ireland. Despite it being so early in the voting all of us Danes really thought we had it at that time. If we could receive 12 points from two so different countries then it looked like a victory to us. In our mind we would also get 12 points from Norway and Sweden – and then of course we had all the votes from the Russian speaking countries which Thomas N'evergreen promised us already in the Danish final. Quite quickly the dreams fell apart though. Our Scandinavian siblings didn't give us as high points as expected – and the promised points from the former Soviet countries never came. Aside from 1 point from Russia these countries apparently all forgot about Thomas – or he had been exaggerating his popularity over there. Thomas had his excuse ready; our late starting position meant that the viewers in these countries all had gone to bed before Denmark entered the stage! Of course there is a time difference, but what did they do in previous year's where you could only vote at the end of all the songs? They still voted so I don't quite accept that explanation and besides, if they really wanted to vote for Denmark then they would have known our starting position and voted for it before going to bed. It was possible to vote for all the songs at the beginning – not just the ones that had already performed.
Just as expected then 8 out of the songs ending in top10 came from the second semi-final. That says that all of us who had been saying that this semi was a lot stronger than the first one was right. One of my Danish friends came up with the idea to have smaller pots when dividing the songs into the semi-finals. If you operate with groups of only four countries instead of 6 and 7 you get a better spread. Of course it is never possible to foresee which countries will select the strongest songs, but it will mean that the two semi-finals will be wider spread geographically.
After two weeks of working in the press centre I am glad to be back home. Norway didn't offer the worst working conditions I have seen, but not the best ones either. We were placed in a tent and most people know that a tent can be extremely warm on sunny days. At those days we were all sweating and complaining about the missing air-condition. On the very cold days we were complaining about the missing heat system and the permanent open doors which meant that we had to work with our jackets on. The weather constantly changed in Oslo and several of us ended up being sick the last days due to this, myself included – and I am even more use to such weather than many others. A minus for this.
Another big flaw with the tent construction was the floor. Wooden plates laying on top of each other raised a bit up made a ground. Unfortunately they had been layed out in such a way than whenever someone was walking – which naturally was all the time – then the entire floor would feel it. Even if someone was walking 10 meters from where you sat you could be quite sure to notice it. It constantly felt like we were in a roller-coaster and that is not the best place to be sitting with your laptop working on something important! We managed to make it work as we had no other option, but this is not something to be repeated. Yet another minus.
Last year we saw them going over the top with the security in Moscow. The first week this year we had very little security here as a look on our badges were enough. It was lovely as it meant no delays. We were able to get to rehearsals and back in to our computers quite quickly. A big applause for this. Unfortunately it didn't last as in the second week everything got a lot tighter. Several times we saw a group of policemen walking around in the working area. We feared something had happened as we were not use to that, but no, it appears like they were just there for no reason. This might be smart to the Norwegians, but not for us who got a scare every time we saw policemen walking around as if something was really wrong. Believe me, I was many times close to packing my stuff as I feared an evacuation was about to take place. 
It worked well with the pigeon holes this year. Some years we have seen people just going to them telling a wrong number and then get the stuff for that number. Half an hour later they could then go back using their own number and also get that stuff – and suddenly they had plenty of extra press material to sell on ebay. This year the volunteers had been instructed better and in 8 out of 10 times they checked that the number matched. It is still not perfect, but we are getting there! A plus for this.
The shuttlebusses were working already on the day the press centre opened and they were generally on time. A big plus for this as well as we have seen many examples by now on this system not working before after 3 or 4 days! Yes, it did happen that some busses didn't turn up, but on those few occasions it was due to a new driver who didn't know where the busstop was!
It happens quite often that the press working area becomes too small and this was also the case this year. Everything was fine in the first week, but in the second it ended up being too crowded and the computers too few. Yes, most people do bring their own laptop, but there is actually still a lot of people who don't. They need a computer available and if they are on a deadline having to wait an hour or two for one to become available isn't smart. I fully understand that it can be hard to esitmate how many of the more than 2000 accredited press doesn't bring a laptop, but maybe it can be done by a field in the accreditation form asking people if they will bring their own one or not? Another thing is also that it would have been nice had their been more power sockets other places in the press centre. Maybe some would have preferred to sit in the lobby with their own laptop or maybe in the café on the days where it was too crowded in the working area? This was not really possible unless you have one of the small notebooks with a batterylife of 8 hours.
Another thing that simply wasn't good enough was the fact that there were no easy access from the arena to the press centre after the three live shows. They had blocked a lot of the roads and short cuts around the two places meaning that a road which was normally just 100 meters suddenly just had to take 15 minutes! Yes, not every journalist will be watching the events in the arena and afterwards needing to get to the press conference, but some will – and for those it becomes a problem that there is no easy access. I experienced standind at a fence just outside the press centre. A policeman was protecting it and I asked him to open it up so that I could get in to the press centre. My P accreditation badge should have worked here, but no. This policeman didn't know this badge so I had no access and had to walk an ekstra kilometre to get in. That was quite annoying and meant that it became impossible to get a good position at the press conference that followed after the show. It also meant that we journalist were quite delayed with our work. Had it been so dificult for that policeman to open the fence for us with the accreditation badge? No, it wouldn't. But then of course I would have less things to give minus to…  
Anyway, I am back home now and so is the rest of our team. We can now start to prepare for the 2011 Eurovision Song Contest in Germany. I am sure it will be an interesting Contest and we will experience good things and bad things as usual. On the way we will have a lot of national finals; some will be spectacular and others we will choose to forget about immediately. I hope that you will join us on the road to Germany.