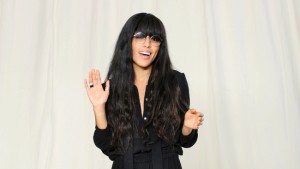 After two semi-finals we now have a line-up of 26 countries that is still in the run to win the 2012 Eurovision Song Contest. This afternoon we saw the first dress rehearsal of the big show that will kick off tomorrow evening ending with a winner and a host country for next year.
To help you get the best prospective EuroVisionary will be covering the three dress rehearsals for the final by three different writers with each their views on what they see.
Note: They were having quite some problems deciding on the best way to avoid people from filming the screen here in the press centre. Unfortunately they decided to use this dress rehearsal on trying out various settings causing us not to see the screen and othertimes not to have any sound. Those things are reheared to as technical problems below.
01. United Kingdom: Engelbert Humperdinck – Love Will Set You Free
We open the final of the 2012 Eurovision Song Contest by Britian's Engelbert Humperdinck. He is without doubt the most experienced and best selling participant participating this year, although it is decades ago he knock off Beatles on the charts. 
(Due to technical problems here in the press centre here in Azerbaijan we were not able to see and hear this performance)  
02. Hungary: Compact Disco – Sound Of Our Hearts
(Due to technical problems here in the press centre here in Azerbaijan we were not able to see and hear this performance)  
03. Albania: Rona Nishliu – Suus
(Due to technical problems here in the press centre here in Azerbaijan we were not able to see and hear this performance)  
04. Lithuania: Donny Montell – Love Is Blind 
(Due to technical problems here in the press centre here in Azerbaijan we were not able to see and hear this performance)  
05. Bosnia & Herzegovina: Maya Sar – Korake Ti Znam
(Due to technical problems here in the press centre here in Azerbaijan we were not able to see and hear this performance)  
06. Russia: Buranovskiye Babushki – Party For Everybody
From Russia we have the most talked abut song this year, a true party for everyone despite the fact that the song is odd and the performance even more so. They are seen and treated as a joke and I am having a hard time seeing this at the top of the scoreboard as I believe the juries will block for such acts.
07. Iceland: Greta Salóme & Jónsi – Never Forget
We move on to something significantly more serious. The Icelandic ballad offers it all; dramatic music, beautiful voices and a stunning performance. To me this is a perfect example of how you write a piece of music that will appeal widely across Europe and Iceland should be sure of a good placement this year. Don't rule out Reykjavík 2013 despite the lower starting number.
08. Cyprus: Ivi Adamou – La La Love
From Cyprus we get a good and catchy pop song delivered by lovely Ivi Adamou, who has gotten a lot of fans during her stay here in Baku. With this song she is likely to get a very good placement and maybe even a top5 – although her performance in this first final dress rehesarsal didn't quite live up to what we saw in the semi-final.
09. France: Anggun – Echo (You And I)
There is a lot going on during these three minutes – maybe actually too much? Anggun herself however is a very good performer, but I can't help getting the feeling that she runs this purely on her professionalism as I miss some enthusiasm from her. That might come in the final when it actually counts. 
10. Italy: Nina Zilli – L'Amore È Femmina (Out Of Love)
Italy's Nina Zilli do give us both enthusiasm and and charm during her performance and no doubt that this will appeal widely as well. Her dress will not win any price, but that isn't what she is here for anywhere. 
11. Estonia: Ott Lepland – Kuula 
(Due to technical problems here in the press centre here in Azerbaijan we were not able to see and hear this performance) 
12. Norway: Tooji – Stay
(Due to technical problems here in the press centre we were only able to see and hear parts of this performance… those few parts did however appear quite convinsing.  
13. Azerbaijan: Sabina Babayeva – When The Music Dies
Sabine's dress is without questions the most spetacular and stunning dress in this year's contest. Her performance is very smooth and surely the host country will get some extra votes, but it will not be any top placement. 
14. Romania: Mandinga – Zaleilah
One fighting for the title is Romania's Mandinga. The performance is very entertaining and the song very catchy. It is something many can relate to and it should go down well in both East and West making this a possible winner. 
15. Denmark: Soluna Samay – Should've Known Better
Soluna have been sick the past few days and therefore it will not be fair to judge on this performance where she can barely stand on her feet and certainly not sing. From the look of the performance we can however expect a similar performance as in the semi-final. 
16. Greece: Eleftheria Eleftheriou – Aphrodisiac
We also know what we can expect from Greece; a simple straight forward song of the type they have tried so many times before. This however appear a bit like they have gone for the cheaper version of their winning song My Number One.  When comparing to Cyprus who are challenging Greece this year I am afraid it won't be a top 10 for Greece.
17. Sweden: Loreen – Euphoria
Biggest favourite Loreen from Sweden is very secure on stage, almost bordering to arrogance. The song however do stand out as a very strong contender although she was clearly holding back today.  
18. Turkey: Can Bonomo – Love Me Back
Can Bonomo comes with a song not everyone expected to qualify, but he is still an interesting performer, being a bit odd in his apperance. It appears like he really likes being on the stage and for that enthusiasm he will score some extra votes. Add the usual diaspora points and you have Turkey in top 10 with a song that is not strong enough to be there.
19. Spain: Pastora Soler – Quédate Conmigo (Stay With Me)
We continue with a ballad from Spain. There is a lot of ballads this year and as such she really needs to stand out to do well – and she does perform it well today where she is certainly not holding back at all. If she can repeat this performance tomorrow Spain might be the big surprise of the evening. 
20. Germany: Roman Lob – Standing Still
We continue with Germany's Roman Lob. This is one of those songs which you might not pay much attention to in the first run, but as soon as you hear it more times you just get to love it. Germany has a strong song this year, but many TV viewers will overlook it – and afterwards love it on the radio.  
21. Malta: Kurt Calleja – This Is The night
One of the big surprises in the semi-finals was that Kurt Calleja from Malta made it to the final. Unexpected yes, but certainly appriciated. It is a good pop song, very catchy and he is quite charming to look at. It is not a winner, but with a bit of luck a top 10 is not impossible.  
22. F.Y.R. Macedonia: Kaliopi – Crno I Belo
Kaliopi is a strong performer and she appears to be one of those you can just count on every time. I really appriciate this song – and after it qualified from a very difficultt second semi-final I believe we can expect a good result from this Balkan country. 
23. Ireland: Jedward – Waterline
From Jedward we certainly also know what to expect: An energetic performance from two twins boys who might not have the strongest vocal – nor the strongest song for that matter, but as long as it is one we can sing a long to and remember what does that matter? Personally I think they have a better song this year and as their voices have matured a lot I will tip Ireland in top10 once again.  
24. Serbia: Željko Joksimović – Nije Ljubav Stvar
Serbia comes with a very familiar and much loved Eurovision star – and just as before you can count on him to fight for the victory. The song is no Lane Moje and he gets very strong competition from Estonia this year, but due to the starting position don't rule it out. 
25. Ukraine: Gaitana – Be My Guest
Gaitana got a very good draw for the final starting position, which sure will help her to be a better result than what the song actually deserves. I am sorry, but this is just not music I can appriciate and as this is a personal view then that is how it is going to be written.  
26. Moldova: Pasha Parfeny – Lăutar 
We end with a happy fun song, which will bring a smile to most people. It is not a masterpiece, in fact it can barely be called a good song, but it makes you smile. I am quite sure Moldova will surprise and get a better result than what many expects, but you don't win a Eurovision Song Contest alone on making the TV viewers smile. 
I believe the winner will be among these 5: Iceland, Spain, Romania, Sweden and Serbia – if I could add another one that would however be Italy.
EuroVisionary is recording 2D as well as 3D videos from this dress rehearsal. Subscriobe to our youtube channel to be kept updated.
This article is based on the writers experience of the dress rehesarsal and does not nessasairly express the opinion of EuroVisionary.com.