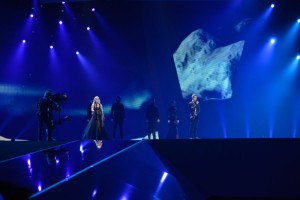 After each of the 18 participants in the first semi-final have been rehearsing individually a bit over an hour on the stage in Baku it was time for the first of three dress rehearsals before the big show tomorrow night. Who stands with the best chances to qualify as things are right now?
Tuesday evening 18 songs will be fighting for 10 spots for the final to be held on Saturday, but first three dress rehearsals will be held giving us some ideas as to who will qualify. To help you get the best prospective EuroVisionary will be covering the three dress rehearsals by three different writers with each their views on what they see.
Here we go through the first dress rehearsal: 
01. Montenegro: Rambo – Amadeus Euro Neuro
We start out with a song, which I just don't think many will get. If you don't understand the lyrics you surely must be wondering what is going on. The banner being brought in and out by the dancers explain something, but what is the donkey doing there? Sorry Montenegro, but this I do not see qualifying. 
02. Iceland: Greta Salóme & Jónsi – Never Forget
And now to something else. This song from Iceland is well written, well produced, well sung and well performed. It surely will appeal to many and must be absolutely sure of its place in the final. Compared to the regular rehearsal the backing singers have been split in to two groups, which bring Greta and Jónsi even more in focus.  
03. Greece: Eleftheria Eleftheriou – Aphrodisiac
The Greek entry is what we can consider a very typical recipe for Greek success. It is extremely catchy and pretty straight forward and has worked so well for them before, but you know that at some point this won't work anymore and question is if that year might be this year? A solid performance, but time will tell if Europe falls for this once again – if they don't Greece will fail to qualify for the final for the first time.
04. Latvia: Anmary – Beautiful Song. 
From Latvia we get a song very diffult to predict. It is a nice sweet song performed well, which many will love and very few will dislike, but does it stand out enough for people to vote for it or will it become one of the songs that everyone will consider a nice song they like hearing, but forget to vote for?
05. Albania: Rona Nishliu – Suus
Next up is Albania, who comes with a dramatic ballad, too dramatic I think. The performance is just as dramatic and this I just don't believe will appeal to the TV viewers, but I do not rule out that the jury could help it to the final. 
06. Romania: Mandinga – Zaleilah
Song number six from Romania should be quite sure of its ticket to the final. The song is very catchy and appealing and it is one people will remember. The performance is entertaining to watch and of course it doesn't hurt either that the smiling female lead singer in a short red dress will get a lot of extra attention from many male TV viewers.
07. Switzerland: Sinplus – Unbreakable
From one song with energy on stage to one with even more. The two guys from Switzerland sure gives everything they can – and more when they perform. It will appeal to the younger audience more than their parents and grandparents, but it would be a surprise if it doesn't get enough votes to qualify for the final. They take extremely good use of the stage, but it will be interesting to see how the many camera shots from far away will work when the hall is actually full of an enthusiastic audience.  
08. Belgium: Iris – Would You?
We move on with a more quiet song. Sweet 16 year old Iris is basically what most grandparents will fall in love with. She is adorable and the song is also quite good, but is it strong enough to stand out? I don't know and declare it to be among the field of many possible qualifiers, where only few will make it. 
09. Finland: Pernilla – När Jag Blundar
Finland singing in Swedish this year belong in the same category. We have seen many times before that a green dress suits red haired girls and it is not exception with Pernilla. It is a beautiful song performed well, but Finland is the Nordic country most in doubt about its qualification. 
10. Israel: Izabo – Time
This first semi-final offers a lot of songs with energy on stage and Israel is next in line. It is absolutely a charming song, which will bring a smile to most TV viewers, but not a sure qualifier. Don't rule it out however. 
11. San Marino: Valentina Monetta – The Social Network Song (Oh Oh – Uh – Oh Oh)
Not many believe San Marino will qualify to the final with this tacky song, but actually I don't want to be too sure. It is not a contender to any Song Of The Year award, but a lot in the younger audience will find it quite fun. Don't be too surprised if it does qualify, but don't expect it to do either.
12. Cyprus: Ivi Adamou – La La Love
This is a song that could very well be the reason for Greece not making it to the final for the first time. It will be fighting for the same votes and it could actually look a bit like Cyprus might be a bit ahead in that battle. It looks promising for Ivi, but less for Eleftheria Eleftheriou.
13. Denmark: Soluna Samay – Should've Known Better
From Denmark we get a very simple and straight forward song, which does not promise more than it can deliver. It is well produced and also looks good on stage. Soluna is charming and that together with a good song Denmark should be sure of its final position, but whether or not it will end up in top 5 as the past two years is another story to be written at a later moment. 
14. Russia:  Buranovskiye Babushki – Party For Everybody
We continue with the song that without doubt has recieved most publicity so far. The Russian grannies as they are often just refered to simply stand out – also with a performance you have not seen before! Musically most can agree on that it does not deserve a place in the final, however no one are in doubt that they will qualify.
15. Hungary: Compact Disco – Sound Of Our Hearts
Hungary brings us back to the list of straight forward songs. It is absolutely a great song and they deliver a good performance where the lead singer makes good use of the stage. I like the song and would like to see it qualifying, but somehow I can't help this feeling that it might not make it.
16. Austria: Trackshittaz – Woki Mit Deim Popo
The next song is exactly the reason why I am doubting Hungary for the final. Austria comes with a funny song with a crazy performance that probably will attract a lot of votes. I think it is too much, but I believe the final is secured for them. 
17. Moldova: Pasha Parfeny – Lăutar
An funny song with a crazy performance – so can the Moldovian entry also be described. Compared to the Austrian one I personally prefer this one and no doubt so will many from my generation and up, but they will be voting for a different song and as such I unfortunately don't think it will qualify. 
18. Ireland: Jedward – Waterline
We end the line of songs in first the semi-final with Jedward who also represented Ireland last year. They have just as much energy on stage as last year and personally I like the staging of their performance better this year. The Jedward twins are in the final once again.
The 10 qualifiers could be:
– Iceland, Latvia, Romania, Switzerland, Israel, Cyprus, Denmark, Russia, Austria, Ireland
This article is based on the writers experience of the dress rehesarsal and does not nessasairly express the opinion of EuroVisionary.com.