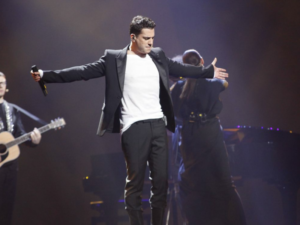 Last night we found the first ten qualifers for the final on Saturday. Tomorrow evening another 18 songs will compete for the last ten spots. This afternoon it was time for the first dress rehearsal for the second semi-final show and thereby time to tell who stands with the best chances. 
To help you get the best prospective EuroVisionary will be covering the three dress rehearsals by three different writers with each their views on what they see.
01. Serbia: Željko Joksimović – Nije Ljubav Stvar
The second semi-final kicks off with a Eurovision veteran and highly appriciated Balkan star. Željko is extremely secure on stage and is a true gentleman to look at with his classic appearance. Though this is no Lane Moje it should be quite sure that he will be among the top scores in this second semi-final.
02. F.Y.R. Macedonia: Kaliopi – Crno I Belo
We continue with another Balkan country and another experienced top performer. She hits the notes and knows how to act on stage. We don't have a possible winner here, but the song and her well known name should be enough to bring her into the final.  
03. The Netherlands: Joan Franka – You And Me
We continue with a country that has not been in the final of the Eurovision Song Contest since 2004, but this year they come with a song that has gotten its own little dedicated fan group. Is that group going to be large enough to bring Joan into the final. I actually think so as the song in itself is quite a nice and simple song though she didn't sing it well today, but if that is just today many will like this song. The indian outfit will however turn some off so if she fails the Netherlands should know where to look for the answer as to why. 
04. Malta: Kurt Calleja – This Is The Night
Malta brings us some well known straight pop of the kind they have tried before. It doesn't always work that well and it is a tough Balkan/Eastern Europe semi-final they are in. A very solid performance today however and I must conclude that this is one of those just on the edge to making it or being out.  
05. Belarus: Litesound – We Are The Heroes
After a disqualification of the winner in the national final Litesound got the ticket to represent Belarus at this year's Eurovision Song Contest. In today's first dress rehearsal technical problems meant that they had to start over again, but that didn't appear to affect the guys too much. They gave a very strong performance and the song should be strong enough to qualify. 
06. Portugal: Filipa Sousa – Vida Minha
Portugal comes with a ballad that is being performed well, but is it strong enough to stand out? Unfortunately I have to conclude that though not many will directly dislike it I doub't many will active vote for it. Sorry Portugal, but I think it ends here.
07. Ukraine: Gaitana – Be My Guest
I wish I could be 100% sure and say that this is without to qualify as I really do not think it deserves to reach the final. I am however not entirely sure that it is over for Gaitana. To me the song is still a mess and I don't get the performance, but I do acknowledge that there might be some who will like this type of music, I just don't know how large that group is. Let's see the rest before concluding Ukraine's faith.
08. Bulgaria: Sofi Marinova – Love Unlimited
Bulgaria also offers some of that dance music as I am having problems judging on. I do however dare to say that I don't think Sofi will make it. I just don't see where the points should be coming from in this second semi-final.
09. Slovenia: Eva Boto – Verjamem
With so many Balkan countries in the same semi-final it is hard to predict who of them will make it to the final. Eva performs it well and should be able to make it to the finall.  
10. Croatia: Nina Badrić – Nebo
A very stylish performance from Nina and she does perform it well. I just don't think it is strong enough to qualify, the song simply does not stand out at all.
11. Sweden: Loreen – Euphoria
Here we have the big fan favourite though lately more and more have started to doubt if it actually is such a sure winner as first mentioned. It is a strong song, which for sure will end up in top 10 – but it doesn't scream winner at it to me either. But one day at a time and yes, this is of course sure to qualify to the final.  
12. Georgia: Anri Jokhadze – I'm A Joker
I watched the Georgian national final and wasn't able to understand how this song could end up winning it. Now that I have seen it being rehearsed here on stage in Baku I can conclude that I still don't get it. Ok, I do see some kind of charm in it, but certainly not enough for it to be performed again in the final. Music wise it is a quite a mess and performance wise it is even more a mess.   
13. Turkey: Can Bonomo – Love Me Back 
Turkey didn't qualify to the final last year and as such the pressure on Can Bonomo is quite high. From first semi-final this wouldn't have had a chance of qualifying, but with Germany voting in this semi-final I however give him a bit better chance of making it, but it will be tight and certainly not any top placement for Turkey this year.   
14. Estonia: Ott Lepland – Kuula
We continue with one of those songs that will appeal widely to many people. This ballad is extremely strong and his voice is fantastic. Don't be surprised if it makes your hair on the arms stand a bit. Estonia is for sure into the final – and a possible top placement as well.  
15. Slovakia: Max Jason Mai – Don't Close Your Eyes 
And now to something completely different. From Slovakia we get a classic rock song, which is extremely catchy and easy to sing a long to. It is like he is holding a bit back now, but that will propbably be fixed for tomorrow. There should be enough fans of this type of music for it to qualify. I will be both surprised and disappointed if it doesn't make it.  
16. Norway: Tooji – Stay
Norway comes with what I consider an Eric Saade Vol.2. I am sorry Tooji and I do acknowledge that you are quite sweet. The song is just not me… but with both Sweden and Norway in this semi-final they will exchange top points and then it doesn't require than many more points to pick up here and there before Norway is through.  
17. Bosnia & Herzegovina: Maya Sar – Korake Ti Znam
And here comes another Balkan entry – like it isn't already difficult to predict who of them will qualify to the final from this semi-final. This looks extremely good on screen and should Serbia, F.Y.R. Macedonia or Slovenia fail to qualify then Maya will probably pick up their tickets… but the song needs a bit of luck to knock them out.  
18. Lithuania: Donny Montell – Love Is Blind 
We end with one of the songs that is frustrating me the most. Not because I don't like it, but because it disappoints me the more I hear it. In the Lithuanian national final I was totally blown away and saw a Eurovision winner in it. That I don't see anymore and now I am even wondering if it will qualify. Most TV viewers will hear it for the first time and that will be Donny's chance.
The 10 qualifiers could be: Serbia, F.Y.R Macedonia, the Netherlands, Belarus, Sweden, Estonia, Slovakia, Norway, Slovenia and Lithuania.     
EuroVisionary is recording 2D as well as 3D videos from this dress rehearsal. Subscriobe to our youtube channel to be kept updated.  
This article is based on the writers experience of the dress rehesarsal and does not nessasairly express the opinion of EuroVisionary.com.