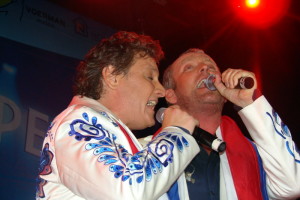 Toppers pulled off a fantastic party with a full concert plus performances from Alexander Rybak and Svetlana Loboda. Singers from the Russian version of the theatre edition of Mama Mia dropped by to show off their talents as well. Here are the first five videos.
EuroVisionary brings you a total of 10 videos from the Dutch party. The first five can be found below:
Video 1: Toppers – Angel in English and Dutch
Video 2: Rene Froger – Bloed, Zweet en Trangen
Video 3: Jeroen van der Boom – Jij Bent So
Video 4: Toppers – Various hits
Video 5: Toppers – Shine – Big Band version
In the second article you find five more videos from the fabulous Toppers party and you can also read more about it our continuing diary here from Moscow.
We will soon upload a photo album from the party called To The Top With The Toppers. In that you can see pictures from the performers, see the painting of Toppers which was up for action and sold for 10.000 euros to the next Dutch broadcaster, TROS and much more.