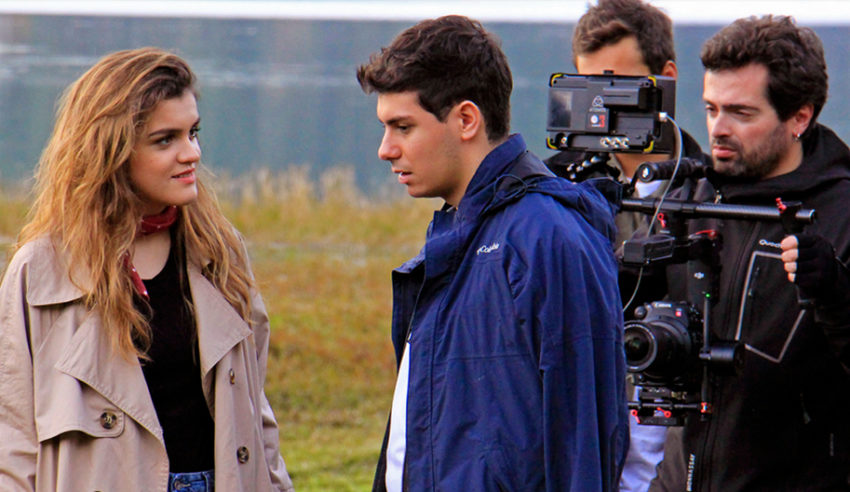 Beautiful nature, and fun activities. The traditional postcards which accompany the artist's performances in the final were revealed today. Let's take a look at what to expect when watching the final tomorrow evening.
The postcards for the 20 acts that qualified from one of the two semi-finals won't be different. We already went through those, so now we will focus on the acts that were automatically qualified for the final. These are host country Portugal and the so-called Big5 countries Spain, Italy, Germany, France and the United Kingdom.
See also: Postcards for first semi-final and postcards for second semi-final
Spain: Amaia & Alfred – "Tu Canción"
The romantic Spanish couple flew to the Azores island for their postcard. Amaia and Alfred visited São Miguel and surely could've taken it as a sort of honeymoon as they had the opportunity to walk by its beautiful nature and see the famous Furnas region. While there, the duo helped to cook Cozido à Portuguesa, a popular activity in the region.
Portugal: Cláudia Pascoal Feat. Isaura – "O Jardim"
The hosts themselves, Cláudia Pascoal and Isaura, visited the Base Naval do Alfeite and had the chance of sailing a ship from the Portuguese Navy. The girls also performed a few regular activities of the group and navigated through the sea with them. All aboard!
United Kingdom: SuRie – "Storms"
Just like Almaia & Alfred, SuRie visited the island of Azores and, again, São Miguel. Instead of visiting its Furnas, SuRie went instead to produce tea, more specifically Gorreana tea. The british singer helped the entire process and, at the end, she had her very own tea.
Germany: Michael Schulte – "You Let Me Walk Alone"
Germany's representative had the opportunity to visit Madeira's Island as well. His postcard was mostly focused on his wind-surfing experience. Besides that, Michael went to visit the island's Seixal beach and Achada de Santo Antão that provided great landscapes for his postcard.
France: Madame Monsieur – "Mercy"
Viana do Castelo was the city chosen for France's duo. Besides visiting the beautiful parts of the city, Madame Monsieur did take part on what seems to be a simulation of the iconic Romaria em Honra de Nossa Senhora da Agonia, a very big and traditional party in the city.
Italy: Ermal Meta & Fabrizio Moro – "Non mi avete fatto niente"
A viewpoint from a local
Now that all postcards have been revealed – at least to the accredited press and fans – it's time to make a balance of what has been aired. It is all more interesting if the person who's writing is actually a local… Even more if from Lisbon which is the case.
This year's postcards were obviousy meant to sell the country, boost tourism and unveil hidden treasures of Portugal. While the production did an amazing job at that, there were so many things left to see due to the constant Lisbon attention. There were at least 13 different acts that solely promoted Lisbon and its activities. If to that we add postcards from the surroundings – Denmark's or Poland's – we then don't have that much diversity, do we?
Portugal has two main cities – Lisbon and Porto – and there are constant efforts in promoting tourism and activities in the country's interior but it looks like Eurovision's postcards didn't move that many.
Despite that, it's safe to say the production did capture a great essence of Portugal and made even local people want to adventure themselves to things the may have not been aware yet.