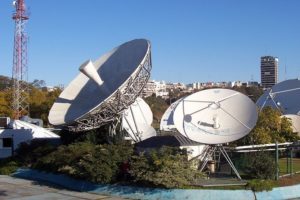 Following the Ukrainian ban on the Russian participant, the European Broadcasting Union has now offered Russia to take part via satellite? We asked EBU yesterday about that possibility, but was told it wasn't possible, but now – 24 hours later – they changed their mind.
Yesterday, Ukraine announced that the Russian singer Julia Samoylova wouldn't be allowed to enter the country and as such take part in the Eurovision Song Contest. We asked EBU whether or not, she could participate via satelite, but was told that this wouldn't be possible in any way. It seems like they took our suggestion however and changed their mind, as now they are basically offering that.
Taking into consideration that this ban might be upheld by the Ukrainian authorities, and in order to maintain the non-political nature of the Eurovision Song Contest, the EBU has been working hard to find a solution to this situation and has taken the unprecedented move to offer Channel One Russia the opportunity for Julia to still participate in this year's Contest by performing live in the 2nd Semi Final via satellite. Should the Russian entry qualify for the Grand Final the same solution would apply. This is something that has never been done before in the Contest's 60 year history but, in the spirit of Eurovision's values of inclusivity, and this year's theme of Celebrate Diversity, the decision has been taken to ensure that all 43 entrants are given the opportunity to participate.

Eurovision Song Contest Executive Supervisor, Jon Ola Sand said: "We are continuing our dialogue with the Ukrainian authorities with the ambition to have all artists present to perform in host city, Kyiv, which is, of course, our preferred option. It is imperative that the Eurovision Song Contest remains free from politics and as such, due to the circumstances surrounding Julia's travel ban, we have felt it important to propose a solution that transcends such issues. We have offered Channel One Russia the opportunity for Julia to perform live via satellite as it is the EBU's intention that every broadcaster that has chosen to take part in the Eurovision Song Contest does so, as has been the case for all previous events in the contest's history."

Frank-Dieter Freiling, Chairman of the Reference Group, the governing body of the Eurovision Song Contest, expressed his hope though, that the political leadership of Ukraine will not implement the travel ban and find a solution in line with the contest's slogan, Celebrate Diversity.
This comes after we asked the EBU about this possibility yesterday. We were first referred to the rules which say "All artists must perform live on stage". We then asked again, if this could be interpreted as live on a stage somewhere else, maybe even with same stage design, but via satelite, and then we got the answer that "it does mean live on stage at the venue itself". It seems they changed their mind.