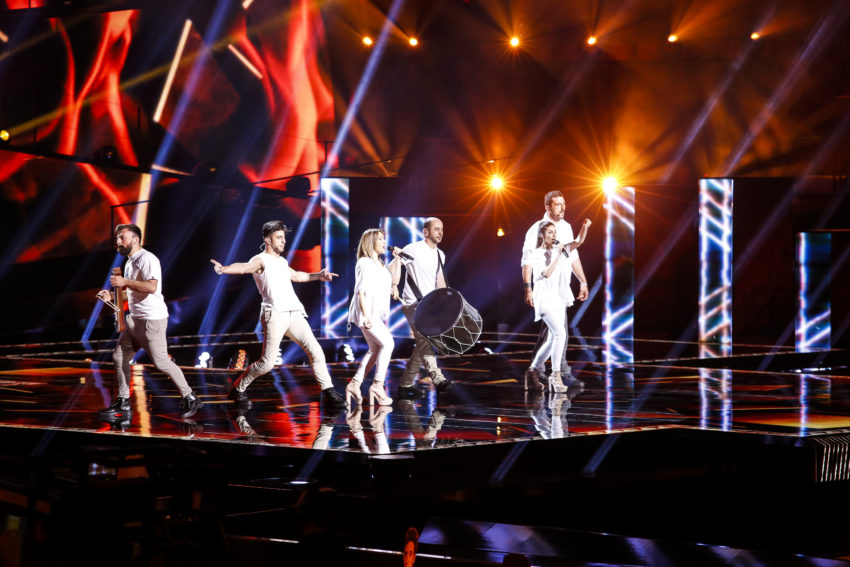 EuroVisionary is covering the Eurovision Song Contest 2016 rehearsals live from Stockholm to give you an idea of what to expect! Starting with Finland, Greece, Moldova and Hungary, the first few countries of the First Semi-Final took to the stage of Globen Arena.
Finland, Greece, Moldova and Hungary will be the first countries to rehearse this morning before lunch break at 12:30. While the press centre is filling up with journalists, Finland's Sandhja can already be heard through the speakers doing her microphone check.
Finland: Sandhja – Sing It Away
After an overhead shot, the presentation starts with a close up of Sandhja who looks really relaxed and sounds pitch-perfect. As the camera frame opens up, we can see that the singer is alone on stage dressed today in a light blue jumpsuit. The stage is predominantly lit in blue, pink and yellow with triangles featuring as the main motif displayed on the stage floor. Five microphone stands on the stage floor anticipate Sandhja's female backing singers who soon appear approaching from the back of the stage. The presentation is indeed all about an (effective) interaction between Sandhja and her main singers, who dance around their microphone stands, joining them together on occasion, to the jazzy beats of the Finish entry. They are dressed in black leather trousers and tops and, like the main singer herself, come across as having fun on stage. Sandhja's vocal performance is pitch perfect and the whole presentation looks effortless from the very first run. At some point later in the song, Sandhja leaves her backing singers and starts walking on the runway before joining again her backing vocalists for some more dancing. The presentation closes with all six ladies crossing their arms in front of their chests. There is a minor technical issue during the second run when the sound  goes for a few seconds but this is indeed a very good first rehearsal from Finland.
Greece: Argo – Utopian Land

There is some waiting before the first rehearsal for Greece. When the first run does take place, there is no sound. All we can see is the stage lit in yellow and golden (as well as some minor red) hues with animated geometric motifs being displayed on the backdrop and stage floor. There are again six people on stage. They consist of four men, the main singer, a drum player, a lyre player and a dancer/vocalist as well as two female vocalists. They are all dressed predominantly in white today.
The presentation appropriately starts with a camera shot of the lyre player playing the introduction of the song, which combines rap and hip hop with traditional, Pontian elements. Even without sound, one can tell that Greece has done its homework once again presentation-wise. The performers are scattered across the stage. At some point, four of the members break into characteristic Pontian dance. There are also choreography formations involving each female singer singing facing one of the male vocalists as well as a very effective overhead shot with all the group members looking up into the camera. The choreography succeeds in reflecting the different musical styles combined in the Greek song (though there is still no sound at the time of writing this): there is hip hop dancing one minute, traditional dancing the next, in a convincing succession that is held together by more neutral choreography formations. The delivery looks quite energetic, too, though there is visible strain in regards to one particular member of the group. There appears to be a lot of editing going on in between runs – a sign that the Greek delegation is paying attention in regards to the camera shots perhaps as these looked quite good from the beginning. Shame there was no sound though – one wonders whether that was due to a technical problem or choice…
Moldova: Lidia Isac – Falling Stars

Still no sound for Moldova's first run. Lidia appears alone standing with her side to the camera. The stage is slightly sub-lit stage and accentuated by electric blue spotlights flashing (one would guess at this stage) to the rhythm of the electro-pop song's beats. Lidia looks beautiful and confident in a light brown dress (matched with white trainers for this first rehearsal – one would guess that Lidia wants to get her vocal performance and choreography right first in some comfort). Soon an arm appears behind the singer's head and a male dancer, dressed in what appears to be an antique diver's (or pehaps astronaut's?) suit, is revealed. He soon takes his helmet off and starts dancing around the singer. When the sound eventually comes on again, one can hear that the vocal performance is good. At some point, Lidia appears surrounded by vertical spotlights as the dancer leaves the stage before joining here again in time for the song's finale, which finds singer and dancer side to side.
One thing I feel I should mention at this point is that the stage lighting and backdrop projections have so far been considerably simpler to what we had been used to in recent years. Then again we're only three songs in, so this might be something that is likely to change.
Hungary: Freddie – Pioneer
There is long delay, a rather long delay, before we get a glimpse of Hungary and, when we do, it's only for a few seconds. What we manage to see is enough to wet our appetite though. Just to be proven wrong in regards to my comment after Moldova, there appear to be impressive graphics used for the projections on the stage floor and backdrop and Freddie looks confident (the 2016 entrants all appear to be cool cats so far) and sounds strong vocally.
We finally get a full run of Hungary. Someone can be heard instructing 'with more energy this time' before the presentation starts. Freddie's husky voice sounds pitch-perfect as he sings his anthemic ballad but, at closer inspection, he looks a bit lethargic indeed (perhaps there is such a thing as being too relaxed after all). As mentioned already, we get the most impressive stage lighting so far with red being the predominant colour. The stage floor is made to look like cracked soil to start with but there are also red and white circles that appear to radiate away from Freddie in the overhead shots. The effect of creating a wall of spotlights along the geometric perimeter of the stage, used similarly for Moldova earlier, is also used here and it really adds to the visual result of the Hungarian presentation.Its set up is otherwise almost identical to that in the Hungarian national final save for a few details. Freddie is dressed in jeans and a brown leather jacket. The four backing vocals as well as a drummer are dressed in black – the Buddist-type tunic for the drummer as well as the light sticks that the backing vocalists used to hold have been ditched today. Hungary finishes with a close up of Freddie's face before the image fades away.
Stay tuned! The rehearsals from Croatia, the Netherlands and Armenia to follow soon!