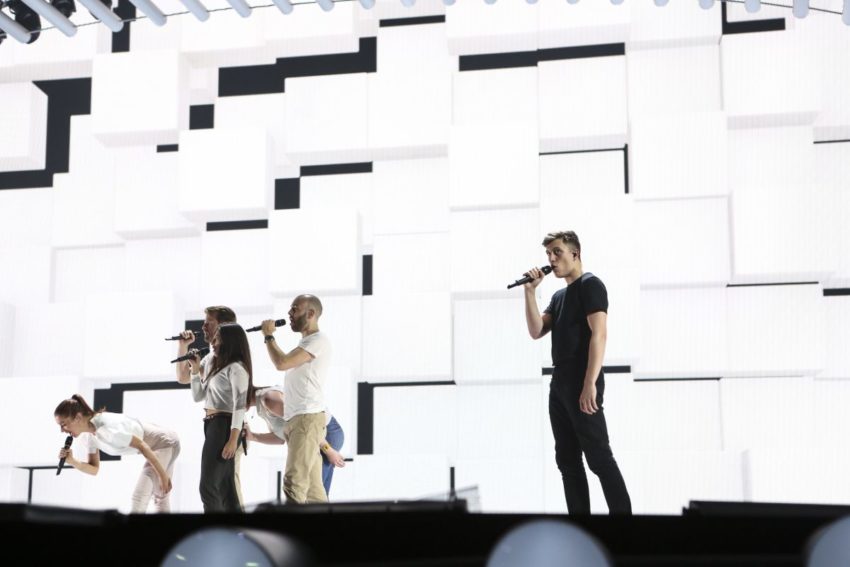 Belgium will be performing 3rd in the upcoming First Semi Final this Tuesday. The country is represented by Loïc Nottet  with the song Rhythm Inside. Are there any changes since the country's first rehearsal? What is the impression left by the song amongst the other entries in the running order? We try to answer your questions reporting live from inside the hall of Wiener Stadthalle.
Belgium is having some really confident runs this morning. Everything – the singing, choreography, lighting and camera work – have come together beautiful to create a very sleek presentation. Loïc, in a white shirt with thing red stripes under his black jacket today, definitely looks as is he's feeling the rhythm inside him; a little too much perhaps as now parts of his jerky choreography are combined with slightly strange facial expressions that make the young Belgian singer look as if he has fallen into an inauspicious trance. Loïc is being a bit experimental with his vocal delivery, too, but this is done confidently and successfully. The part of the choreography where he is lying on the floor while one of the dancers is stepping on his thigh still looks a little awkward even though it is a much lighter looking step.
Belgium's quirky hip-hop offering presents yet another change both in musical as well as visual terms compared to Armenia which preceded it. The comparison probably favors Belgium. Belgium is good, very good and I will be very surprised if we don't see the country in the final this year.
Belgium has only qualified twice out of the ten times it has been in the semi finals in the past.
You can watch Belgium's first rehearsal from Monday  here.
You can watch our video from Belgium's second rehearsal this morning below.