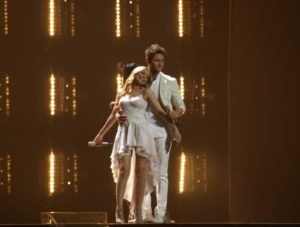 Azerbaijan had the privilege to win our beloved contest for the first time the Eurovision history. The romantic duet by Nigar Jamal and Eldar Qasimov titled 'Running Scared' is however quite debatable. Azerbaijan won the contest with 221 points among 43 countries.
In 2011, initially, 200 songs applied for the national selection in Azerbaijan. Out of those, 80 were selected and divided into 10 groups of 8 by a jury. The songs with most jury votes in each of the 10 groups saw the final selection, and the jury selected Ell & Nikki's Running Scared as the winner.. Azerbaijani fans were more than happy to see that the jury made the right decision after the victory.
Running Scared is a romantic ballad written by Stefan Örn, Sandra Bjurman and Iain Farquharson. The lyrics were written by Stefan Örn and Sandra Bjurman.
Running Scared – opinions from fans
In order to find out what Eurovision fans today think of this Azerbaijani entry from 2011, we asked our Eurovision Fan Panel. It includes team members as well as fans from all over the world.
🇳🇱 Frank S. – For me this was the most undeserved Eurovision win ever. An incredibly boring song that was out of tune….What can I say….As much as I want to say something positive….the staging was ok? No, no, no….I am still highly surprised by the voting..
🇬🇧 Michael O. – The first moment I heard this song I knew it was going to win, but the reality is the stage show was not good, and in a year of Eric, Kati, Blue, A Friend In London, Lena and even Mika Newton, this didn't really deserve to be the winner. Having said that I'm quite fond of the song, and don't think it's near the worst winner by any means.
🇨🇴 🇫🇮 Alvaro S. – I have to admit I was one of the haters of this entry. After almost a decade of the first Azeri victory in Eurovision part of the vitriol has faded away but still I don't consider it a worthy winner. It is not "the worst entry in Eurovision history" but it is just meh. So cheesy, so predictable to have a couple "pretending they're in love" as Petra and Måns would say in Love, Love, Peace Peace. And the fact that 2011 was a very competitive year with some more deserving songs adds insult to injury.
🇬🇧 Ashleigh K. – Azerbaijan is one of those countries that nearly always bring something great to Eurovision. This song is sweet but it hasn't aged well and though 2011 wasn't the strongest of years, looking back I would have preferred others to win. This song reminds me of 2008 when the sweet, non-offensive but boring Believe won and now everyone loves the 2nd place contestant more.
🇱🇻 Jānis O. – Eurovision 2011 was my guilty pleasure year! The final was amazing. I have enjoyed all final songs. Running Scared was on my top 5. I still smile about this performance.
🇺🇸 Ray M. – Running Scared by Ell & Nikki is one of my favourite Eurovision songs of all time. The airy background vocals, the longing melody, and the chorus that made you want to stand up and sing lifted this song far above the others. The minor key added the hint of tension that made this song the clear winner for the 2011 contest.
🇹🇷 Gunec G. – I don't know how objective I can be about this song but I'll try my best. First of all, the idea of Azerbaijan winning the contest is like heaven for me because in my country, Turkey, our broadcaster decided to participate one more year in 2012 because the contest was going to be in Azerbaijan. As for the song, I should agree that it is not Azerbaijan's best entry but I loved the duo's energy on stage. Especially I remember crying when I saw Nigar with the Turkish flag after they were announced winners. Thus, the song was not that bad at all, a romantic ballad.
🇦🇺 Craig M. – For me, this song is probably the most underwhelming winner for as far back as I can remember. Even if the winner is not my favourite song, I can usually accept the result, and understand why a song did well, even if it was not one of my favourites, but this song was a winner in a very weak year. My faves from 2011 were Lena, Dino Marlin and Getter Jaani. If any of these 3 would have won, I would have been happy
Congrats to Azerbaijan though.. their least favourite entry they have ever had, won in 2011, so fair play
🇨🇿 Josef Š – Ok, let's be honest – this is one my guilty pleasures. I mean, I liked the song in 2011, but never ever thought it may actually win as it is quite cheesy pop ballad and the vocals are really poor compared to other songs from 2011. But it has some kind of hidden chemistry and romance in the performance. And the golden rain is classy. So why not, but even after almost 10 years, I don't know why it actually won.
🇸🇪 Antonio P. – I must have missed something about that song. Who in the world voted for this, it's one of the worst winning song, together with winners from 2004 and 2005. It's boring, no feeling, same tone through whole song.
I don't know what is the with this song, and why do thy have fireworks to a bad ballad? It's one of the worst songs, and it didn't go well in Europe, other songs from that year has been played more than this, and it was far better songs. They has just disappeared not a word after their winning song. They also had a record for lowest points (5.26/voting country).
🇬🇧 William S. – This and Sweden 2012 are the only songs I have ever predicted to win on the night. This is a clinical and sterile ballad, that does its job of conveying a message of love, the live vocals leave a lot to be desired, and the staging is minimal yet effective. It's not a song that I listen to much these days, but I understood why it won in 2011.
Enjoy Ell & Nikki's performance from the 2011 Eurovision Song Contest in the embedded video. Below the video, you can read more about Ell & Nikki.
A Mini Biography for Ell & Nikki
Nigar Jamal and Eldar Qasimov came together for Eurovision Song Contest in 2011 when they had never worked together before. The duo have been doing music together occasionally ever since.
They were both enthusiastic about music since their childhood and began their music studies by practising piano.They are both proceeding with their career through TV shows and concerts together and individually.
Along with several singles, Nigar Jamal has released an album named Play With Me in 2012 which included the hit track Come into my world ft. Dima Bilan (Russia 2008).
Eldar also has released several singles including Ice & Fire ft. Zlata Ognevich (Ukraine 2013).